By Lambert Strether of Corrente
Bird Song of the Day
Southern Martin, Jujuy, Argentina.
* * *
Politics
"But what is government itself, but the greatest of all reflections on human nature?" –James Madison, Federalist 51
"They had learned nothing, and forgotten nothing." –Charles Maurice de Talleyrand-Périgord
"When the going gets weird, the weird turn pro." –Hunter Thompson
Capitol Seizure
"Harvard Study: J6 Rioters Were Motivated by Loyalty to Trump, Not Insurrection" [Jonathan Turley]. According to The Crimson, Harvard has completed what it calls the most comprehensive study of the motivations of those involved in the January 6, 2021 Capitol riot. Many will not be surprised to learn that most participated out of loyalty to former President Donald Trump. However, the study also found that only eight percent harbored 'a desire to start a civil war.' That is inconsistent with the virtual mantra out of the J6 Committee and many in Congress that this was an insurrection rather than a riot. Some of us (including many in the public) have previously questioned that characterization. Yet, it reflects the relatively small number of seditious conspiracy charges brought by the Justice Department. The study found that a plurality of the 417 federally charged defendants were motivated by the 'lies about election fraud and enthusiasm for his re-election.' It concluded that '[t]he documents show that Trump and his allies convinced an unquantifiable number of Americans that representative democracy in the United States was not only in decline, but in imminent, existential danger.'"

"Homeland Security watchdog halted plan to recover Secret Service texts, records show" [WaPo]. "The Department of Homeland Security's chief watchdog scrapped its investigative team's effort to collect agency phones to try to recover deleted Secret Service texts this year, according to four people with knowledge of the decision and internal records reviewed by The Washington Post. In early February, after learning that the Secret Service's text messages had been erased as part of a migration to new devices, staff at Inspector General Joseph V. Cuffari's office planned to contact all DHS agencies offering to have data specialists help retrieve messages from their phones, according to two government whistleblowers who provided reports to Congress. But later that month, Cuffari's office decided it would not collect or review any agency phones, according to three people briefed on the decision. The latest revelation comes as Democratic lawmakers have accused Cuffari's office of failing to aggressively investigate the agency's actions in response to the violent attack on the Capitol by supporters of then-President Donald Trump on Jan. 6, 2021. Cuffari wrote a letter to the House and Senate Homeland Security committees this month saying the Secret Service's text messages from the time of the attack had been 'erased.' But he did not immediately disclose that his office first discovered that deletion in December and failed to alert lawmakers or examine the phones." • Cuffari was appointed by Trump but retained by Biden.

"The Jan. 6 Committee's Findings Have Met the Appropriately High Bar for Prosecuting Trump" [Walter Olson, The Unpopulist]. Cato. Caveats on prosecutorial discretion: " In some instances, as with the fake-electors scheme, it's not clear whether courts would define the behavior at issue as illegal. In others, where the state of the law may be better settled, a good defense lawyer might successfully sow doubt about the former president's intentions or state of knowledge, and it's anyone's guess whether a jury would convict. An unsuccessful prosecution of Trump could allow him to claim vindication, embolden him to reoffend if returned to power, and mislead the public as to what presidents may legally do." But: "[T]he work of the January 6 committee has helped to make clear many facts relevant to whether to prosecute. These facts include Trump's state of mind and state of knowledge regarding events at the Capitol and the efforts to derail the certification of electors, as well as the seriousness of those events." And: "I have also come to think that this is a moment in which America can no longer see itself as all that different from the rest of the world. We, too, are vulnerable to criminal conduct by a head of state in a form that we associate with unstable and vulnerable democracies—in this case, an attempt to stay in power despite losing the election. We cannot ignore that conduct, and we must deter it, even at the cost of new dangers." • Worth a read.
Abortion
Biden Administration
Promises, promises:

 

GALLUP: Biden has lower average approval at this point in his presidency than Trump or any other president.

Here's why:https://t.co/N6tDNsojcT pic.twitter.com/Zqwiuah4UD

— Peter Daou (@peterdaou) July 30, 2022

"CDC expected to ease Covid-19 recommendations, including for schools, as soon as this week" [CNN]. Hard to see how they can be eased any more than they are now. "The agency also plans to re-emphasize the importance of building ventilation as a way to help stop the spread of many respiratory diseases, not just Covid-19. It plans to encourage schools to do more to clean and refresh their indoor air. Sources say the tweaks reflect both shifting public sentiment toward the pandemic — many Americans have stopped wearing masks or social distancing — and a high level of underlying immunity in the population. Screening of blood samples suggests that as December, 95% of Americans have had Covid-19 or been vaccinated against it, reducing the chances of becoming severely ill or dying if they get it again." • Good news on ventilation, possibly, but the exact working remains to be seen.

"Biden–Harris Administration Releases Two New Reports on Long COVID to Support Patients and Further Research" (press release) [HHS]. "The Biden–Harris Administration is committed to helping people across America affected by Long COVID. In April, President Joe Biden issued a Memorandum on Addressing the Long-Term Effects of COVID-19, which called for the creation of two reports. Within 120 days, the U.S. Department of Health and Human Services (HHS), leading a whole-of-government response, developed two reports that together, pave an actionable path forward to address Long COVID and associated conditions. The National Research Action Plan on Long COVID details advances in current research and charts a course for future study to better understand prevention and treatment of Long COVID. The Services and Supports for Longer-Term Impacts of COVID-19 report highlights resources for health care workers, and those effected by broader effects of COVID-19, including not only Long COVID but also effects on mental health and substance use, and loss of caregivers and loved ones." • The final sentence reinforces CDC's bogus "community levels" metric [bangs head on desk].

"4 police officers federally charged with civil rights violations in Breonna Taylor's death" [NBC]. "Two current and two former police officers in Louisville, Kentucky, have been charged with violating Breonna Taylor's civil rights in the 2020 botched raid that led to the young Black woman's death, federal officials said Thursday. U.S. Attorney General Merrick Garland, in announcing the charges, said the Department of Justice alleges that the violations 'resulted in Ms. Taylor's death.'" • Good.
2022
* * *

"Left loses momentum" [Axios]. "An Axios analysis shows the moderate candidate won 14 of 22 congressional primaries this year, when a progressive candidate challenged a more moderate candidate in seats Dems can win. That's almost two-thirds of the time… Gallup data from last year show that the Democratic party's voters are almost equally split between moderates and liberals: 51% of Democrats identify as liberal, while 49% identify as either moderate or conservative. But liberals are gaining ground: In 2011, just 39% of Democrats identified as liberal while 59% considered themselves moderate or conservative. Liberals make up the smallest share of the electorate. Gallup found a 37% plurality of voters ID as conservative, 36% as moderate and 25% as liberal. That means Republicans can play to their base and still manage to win elections with a minority of moderates, but Democrats need moderate support to win outside the bluest parts of the country." • The usual slipperiness between progressive, left, and liberal.

"Just How Real Is Democrats' Recent Surge?" [Charlie Cook, Cook Political Report]. "One thing that has been noted by both Democratic and Republican pollsters is that given the circumstances, Republicans seem to be underperforming on the generic congressional ballot test. Given the political fundamentals, one might expect Republicans to be ahead at least five or six points. Instead, the GOP leads by a scant 0.9 percentage points in the RealClearPolitics average and an even narrower 0.3 percentage points in FiveThirtyEight's measurement. Many top election forecasters and political scientists consider 'the generic' to be the best single predictor of which way the House is going, and whether the winds are light, moderate, heavy, or hurricane strength…. It isn't hard to see how the GOP could win the House but come up short in the Senate. [At PredictIt, Republicans' chances of winning a House majority are about the same as a month ago, now 87 percent. But in the Senate, the 63 percent chance has shrunk to 52 percent, and winning both has dropped from 62 percent to 50 percent. I am still a bit skeptical that things have changed enough to change the trajectory of the election in terms of the House. Yet in the Senate, it may be time to stop and call it a 50-50 proposition while we wait for more data. So how real is this? Too soon to say." • It's not even Labor Day yet.

AZ: Wut:

 

I have never seen anything like this.
Maricopa County's top prosecutor sends cease-and-desist letter to Trumpist candidate for Maricopa County Board: Stop telling people to steal our pens. https://t.co/eJXfO2p6jO pic.twitter.com/beEXJd5ONc

— Brahm Resnik (@brahmresnik) August 2, 2022

GA: "Herschel Walker agrees to debate Raphael Warnock — but with stipulations" [WSB-TV]. "Warnock has committed to three debates. Walker said Friday he is ready to debate anytime, but he has yet to commit to any. Instead, he offered a different option…. 'Oh, I'm ready to debate anytime he wants, but it has to be fair and equitable debate,' Walker said. ;And it's got to be for the voters, not for the press or some particular party. It's got to be before the voters so they can see the contrast.' Warnock's campaign said the senator has agreed to three debates this fall. Two of them already are scheduled for October, including one in Atlanta." • Hmm.

MO: "St. Louis Voters Keep Cori Bush as Missouri Democrats Choose Anheuser-Busch Heir" [The Intercept]. "Rep. Cori Bush sailed to a comfortable reelection Tuesday night, sending a message that St. Louis Democrats are happy with their nonconformist representative. Her victory marks a win for progressive incumbents in an election year that has seen them embattled by outside spending and little supported — if not outright opposed — by the party establishment. But progressives faltered statewide: In the open race for retiring Missouri Sen. Roy Blunt's seat, populist-styled Lucas Kunce lost the primary to Trudy Busch Valentine, an heir to the Anheuser-Busch fortune. 'They don't like the fact that we don't accept any corporate money. They don't like that I speak the way that I speak because I came from this community and I sound like my community. They don't love the fact that, instead of being what they call dignified, I show up as a protestor, that I've been on the frontlines forever,' Bush told the crowd at her election-night speech. 'But our work isn't based on what they like. Our work is based on what folks need.' A former nurse and activist, Bush gained prominence locally as the Black Lives Matter movement took to the streets in 2014, after Ferguson police shot and killed 18-year-old Michael Brown."

TX: "Texas Ethics Commission wants funds for tech upgrades after Beto O'Rourke crashes servers" [Dallas Morning News]. " After Beto O'Rourke's massive fundraising report overwhelmed state servers last month, the Texas Ethics Commission wants three-quarters of a million dollars to upgrade its aging technology ahead of the midterm elections. Without change, the system 'will likely fail again' when the next round of campaign finance reports are due in October, commission leaders warned in a July 29 letter. The issue is coming to a head as campaign finance reports grow ever more voluminous, the letter said, and the commission's decade-old servers cannot keep up."
Democrats en Déshabillé
I have moved my standing remarks on the Democrat Party ("the Democrat Party is a rotting corpse that can't bury itself") to a separate, back-dated post, to which I will periodically add material, summarizing the addition here in a "live" Water Cooler. (Hopefully, some Bourdieu.) It turns out that defining the Democrat Party is, in fact, a hard problem. I do think the paragraph that follows is on point all the way back to 2016, if not before:

The Democrat Party is the political expression of the class power of PMC, their base (lucidly explained by Thomas Frank in Listen, Liberal!). ; if the Democrat Party did not exist, the PMC would have to invent it. . ("PMC" modulo "class expatriates," of course.) Second, all the working parts of the Party reinforce each other. Leave aside characterizing the relationships between elements of the Party (ka-ching, but not entirely) those elements comprise a network — a Flex Net? An iron octagon? — of funders, vendors, apparatchiks, electeds, NGOs, and miscellaneous mercenaries, with assets in the press and the intelligence community.

Note, of course, that the class power of the PMC both expresses and is limited by other classes; oligarchs and American gentry (see 'industrial model' of Ferguson, Jorgensen, and Jie) and the working class spring to mind. Suck up, kick down.

* * *

Obama staffers believed that The West Wing was an accurate description of how the White House worked:

 

Reminder that the people in charge of our institutions are literally retarded: pic.twitter.com/UPUCrLXU8o

— Asabiyyah Pepe (@AsabiyyahPepe) July 29, 2022

(No surprise to those who listen to the West Wing Thing podcast.) Aaron Sorkin has a lot to answer for. (From Boomers: The Men and Women Who Promised Freedom and Delivered Disaster by Helen Andrews.)
#COVID19
• Maskstravaganza:
@jetblue i just saw a passenger harrassed while boarding a flight from NW to Boston in an elastomeric mask, being told "can't wear that gas mask" and offered a very inadequate surgical mask in exchange. @kprather88 @Don_Milton @jmcrookston @PPEtoheros

— emily gray (@emilygraymd_mph) August 4, 2022
If you missed it, here's a post on my queasiness with CDC numbers, especially case count, which I (still) consider most important, despite what Walensky's psychos at CDC who invented "community levels" think. But these are the numbers we have.
* * *
Case Count
Case count for the United States: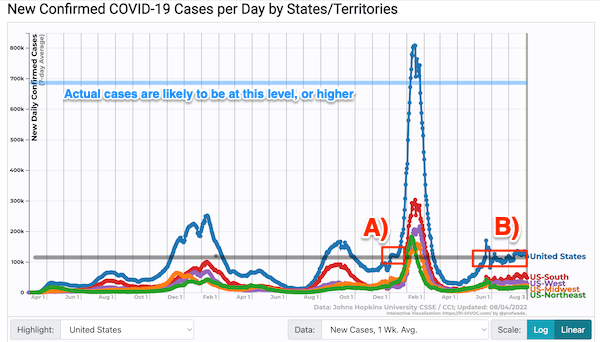 Lambert here: I am but a humble tapewatcher, but this the first time in a long time I've seen a lot of indicators improve simultaneously (and federalism + private data work against manipulating everything). Good news. But also modified rapture. Let's focus on the case data, specifically at points A) and B) on the chart above, and at the "fiddling and diddling" (as I call it) delineated by the red boxes. At A), I remember having the sensation of Omicron going around the house, banging on doors, trying to get in. It did, then "up like a rocket, down like a stick". At B), we have a pattern I've called "sawtooth," not flat like A), but flat enough. Of course, we can't see the real curves because our data is so bad (see discussion of the "Biden Line"). But if we make the assumption that the curves for actual cases are the same as for reported cases, the sawtooth pattern has been very persistent (note that deaths, which lag cases, have the same pattern). Now, if I were the sort of policy maker who believed in herd immunity and the Great Barrington Declaration and "everyone's going to get it," I might be rubbing my hands and congratulating myself right now, on having achieved a consistent and politically acceptable level of suffering and death that can continue indefinitely; I might even think that BA.5 had been very good to me. (The great lesson of the Covid pandemic would be that elites can slaughter a million people without civil resistance. They can even get people to slaughter themselves in the name of "freedom," etc. Good to know!) We will see in the coming days and weeks.
Remember that cases are undercounted, one source saying by a factor of six, Gottlieb thinking we only pick up one in seven or eight.) Hence, I take the case count and multiply it by six to approximate the real level of cases, and draw the DNC-blue "Biden Line" at that point. The previous count was ~121,700 Today, it's ~116,500 and 116,500 * 6 = a Biden line at 699,000. per day. That's rather a lot of cases per day, when you think about it. At least we have confirmation that the extraordinary mass of case anecdotes we've seen have a basis in reality. (Remember these data points are weekly averages, so daily fluctuations are smoothed out.) The black "Fauci Line" is a counter to triumphalism, since it compares current levels to past crises.
• "US stuck in a 'horrible plateau' of COVID-19 deaths, experts say. Here's why" [USA Today]. ""COVID is over" might trend within social media circles, but weekly U.S. death tolls tell a different story. The pace of COVID-19 deaths has remained relatively steady since May, despite an uptick in July to about 400 a day, according to a USA TODAY analysis of Johns Hopkins University data. 'We're sitting on this horrible plateau,' said Dr. Daniel Griffin, an infectious disease specialist with Pro Health Care in New York and a clinical instructor of medicine at Columbia University. 'It's been this way for the past couple of months, and we're getting used to it.'… 'This plateau now, as horrible as it is, is unfortunately lower than it's going to be if we don't do a great job this fall with boosters and improving education about how to properly manage COVID," Griffin said."
Regional case count for four weeks: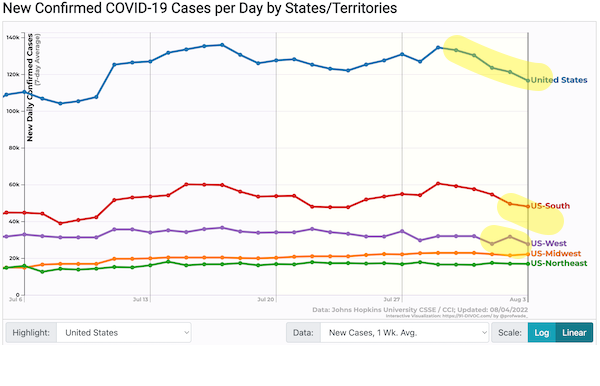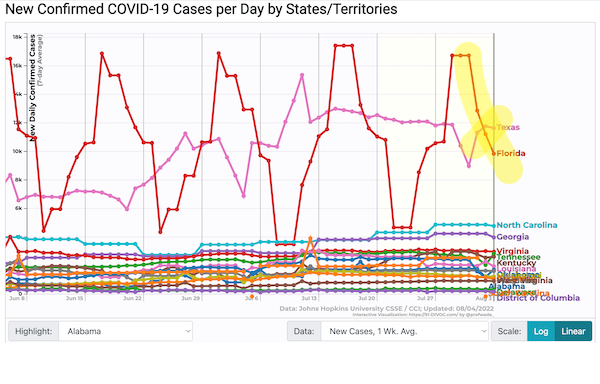 It has not escaped my notice that big states are driving the national case count, and that DeSantis (Florida) and Newsom (California) are both Presidential timber, and Abbbot might consider himself so. However, we have other indicators than cases.
The South (minus Texas and Florida):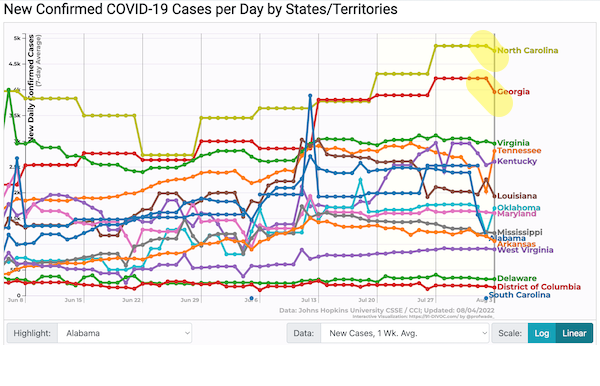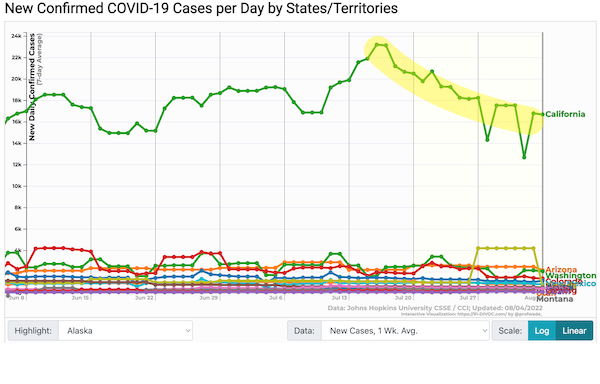 I'm just not sure I can trust California data. For example, here is San Diego wastewater from July 17: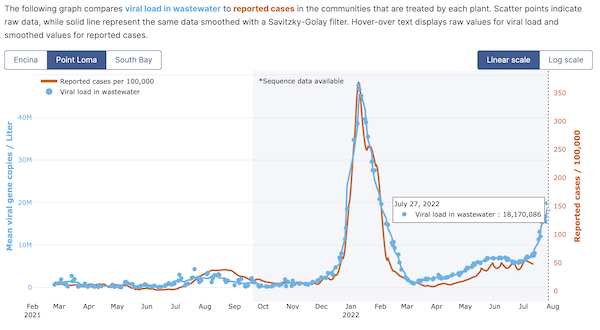 Cases say one thing, wastewater another. What do California readers think?
Positivity
From the Walgreen's test positivity tracker, August 1: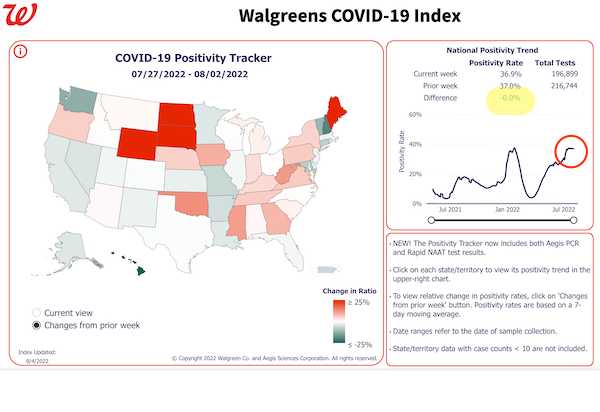 0.0%. (I wonder if there's a Keynesian Beauty Contest effect, here; that is, if people encounter a sympotomatic person, whether in their social circle or in normal activity, they are more likely to get a test, because they believe, correctly, that it's more likely they will be infected.) Starting to look like positivity has peaked, at least for Walgreen's test population.
Transmission
NOTE: I shall most certainly not be using the CDC's new "Community Level" metric. Because CDC has combined a leading indicator (cases) with a lagging one (hospitalization) their new metric is a poor warning sign of a surge, and a poor way to assess personal risk. In addition, Covid is a disease you don't want to get. Even if you are not hospitalized, you can suffer from Long Covid, vascular issues, and neurological issues. For these reasons, case counts — known to be underestimated, due to home test kits — deserve to stand alone as a number to be tracked, no matter how much the political operatives in CDC leadership would like to obfuscate it. That the "green map" (which Topol calls a "capitulation" and a "deception") is still up and being taken seriously verges on the criminal. Use the community transmission immediately below.
Here is CDC's interactive map by county set to community transmission. This is the map CDC wants only hospitals to look at, not you. For July 21, 2020: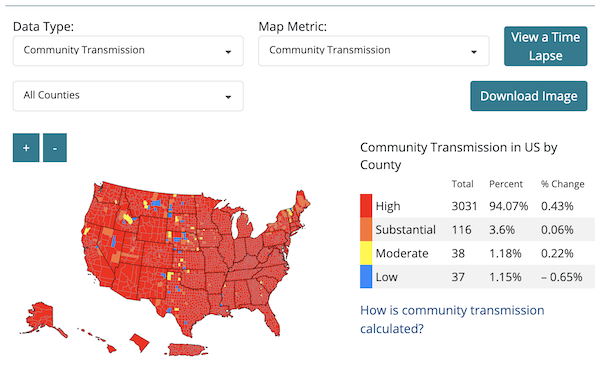 Some blue in flyover.
NOT UPDATED Rapid Riser data, by county (CDC), August 3: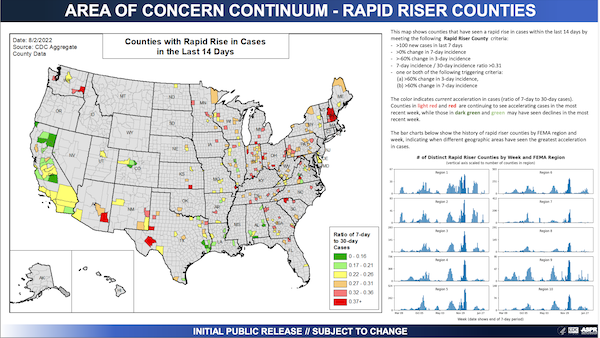 Improvements everywhere (except New Hampshire. Tourism?).
Previous Rapid Riser data: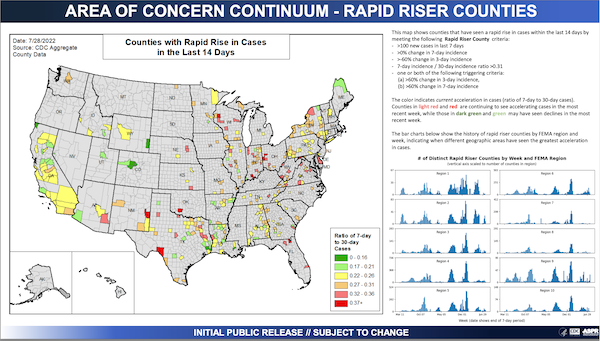 NOT UPDATED Hospitalization data, by state (CDC), August 3: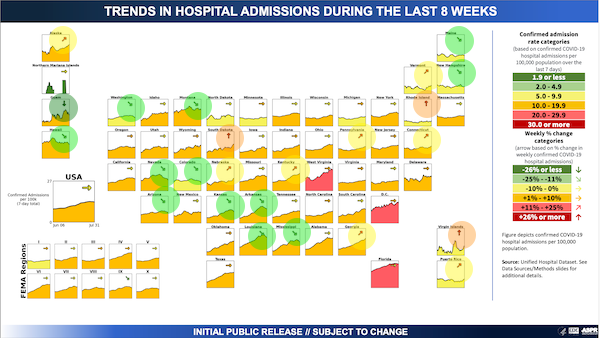 More green. Good!
Variants
Lambert here: It's beyond frustrating how slow the variant data is. I looked for more charts: California doesn't to a BA.4/BA.5 breakdown. New York does but it, too, is on a molasses-like two-week cycle. Does nobody in the public health establishment get a promotion for tracking variants? Are there no grants? Is there a single lab that does this work, and everybody gets the results from them? Additional sources from readers welcome [grinds teeth, bangs head on desk].
Variant data, national (Walgreens), July 21: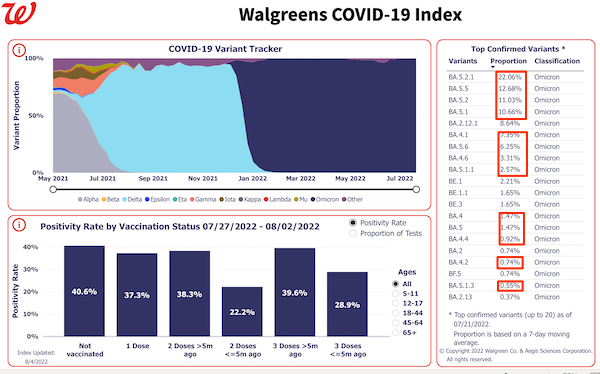 NOT UPDATED Variant data, national (CDC), July 16 (Nowcast off):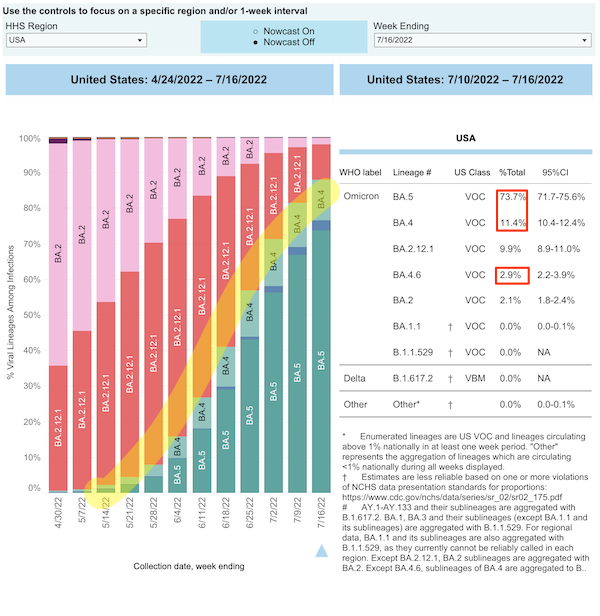 BA.5 moving along nicely. NOTE CDC restored the previous layout it had been using, so I used it. But the data remains the same.
Wastewater
Wastewater data (CDC), July 31: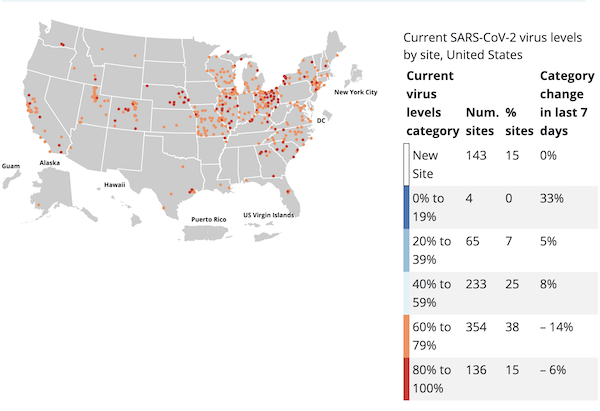 Red dots improved.
Deaths
Death rate (Our World in Data):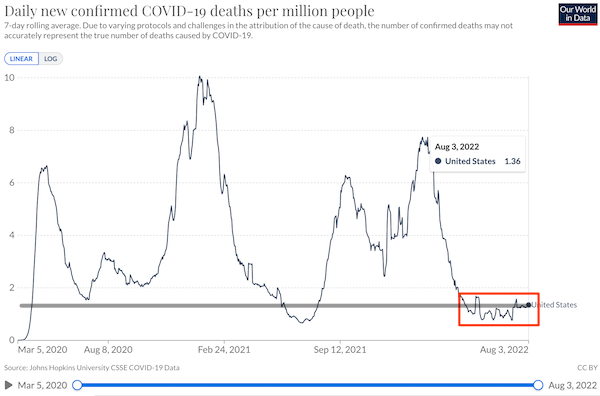 Total: 1,057,239 – 1,055,975 = 399 (1264 * 365 = 461,360; the new normal). Quite a pop. However, note the sawtooth pattern marked in red. I have added an anti-triumphalist Fauci Line. It's nice that for deaths I have a simple, daily chart that just keeps chugging along, unlike everything else CDC and the White House are screwing up or letting go dark, good job.
NOTE Readers, I introduced a new piece of arithmetic: The level of death that the CDC and the political class generally would like us to become accustomed to.
Stats Watch
Employment Situation: "United States Challenger Job Cuts" [Trading Economics]. "US-based companies announced plans to cut 25,810 jobs from their payrolls in July of 2022, a 36.3% increase from the 18,942 cuts announced in July of 2021. The figure marks the second-highest amount of job cuts in the year so far, easing from the 16-month high of 32,517 in June…. Still, the Challenger report noted that the labor market remains tight and that larger-scale layoffs have not yet started, despite indications that hiring activity is slowing after an extended period of growth." • Do better, employers!
Employment Situation: "United States Initial Jobless Claims" [Trading Economics]. "The number of Americans filing new claims for unemployment benefits rose by 6 thousand to 260,000 the week that ended July 30th, surpassing market expectations of 259,000."
* * *
Today's Fear & Greed Index: 48 Neutral (previous close: 44 Fear) [
CNN
]. One week ago: 38 (Fear). (0 is Extreme Fear; 100 is Extreme Greed). Last updated Aug 4 at 1:40 PM EDT. I suppose this is what Mr. Market thinks the odds are for a nuclear war?
The Conservatory
"Four Lads That Shook the Wirral" [Tribune]. "[Half Man Half Biscuit's] catalogue is littered with class rants and songs skewering complacency and this writing is at its most forensic and brutal on the latest record, The Voltarol Years. A lot of the usual cultural cornerstones are drawn upon—lower league football, parochial oddballs, lapsed Catholicism—but it comes with a heftier weight now, a sense of fragile mortality quite probably galvanised by the pandemic. Covid-inspired or not, the album delves more extensively into a deep seam that the band have explored for their entire career: you are born, you are trapped by your socio-economic conditions, you die…. the band's active fanbase are absolutely rabid—referencing songs in the way they dress at gigs—and because of the band preferring to stick to a reasonable radius of the the Wirral, make considerable journeys to see the band play. It's a loyalty which is rewarded, as the band have an anachronistically meaningful relationship with their fans—most recently demonstrated by Nigel scattering a fan's ashes onstage in Holmfirth, having been asked by the deceased's friend who was in attendance." • Musical interlude:
"… probably by a junior employer." The lyrics are great; check the first comment for the video. That chord progression sounds an awful lot like "Everything's Going According to Plan," oddly appropriate(d(?)):
Zeitgeist Watch
Class Warfare
"Reuters US Reporters Are Striking for First Time in Decades" [Reuters]. "Thomson Reuters Corp. journalists in the US launched a daylong strike Thursday, the first walkout in decades among the media company's long-unionized staff. Employees began a 24-hour strike at 6 a.m. New York time Thursday after claiming the company didn't fairly negotiate pay increases, according to the Communications Workers of America's NewsGuild, which represents US-based Reuters reporters, photographers and video journalists. The group said about 90% of the 300 or so Reuters employees it represents agreed to participate. The news organization proposed a three-year contract with guaranteed annual pay increases of 1%, according to the union, which would erode employee spending power against a backdrop of 9% inflation. Members of the guild believe Reuters managers aren't working with them in good faith, and have also filed a complaint with the US National Labor Relations Board. They join an expanding group of media workers that have recently pushed back against what they characterize as unfair treatment by their employers." • Of all the institutions where workers could seize the means of production…. See Defector, a success.
Spooks everywhere:
Very interesting, and now all too common, career path: CIA –> Private intelligence –> Internal security and union busting for a top multinational corporation. https://t.co/xvQ7Uo0X5U

— Jacob Silverman (@SilvermanJacob) August 3, 2022
"A TRAP for workers" [Cory Doctorow, Medium]. "TRAP — 'training repayment agreement provision' — was billed as a free job training scheme for new Petsmart hires, a 4-week program to teach you to groom cats and dogs. But this 'free' program actually loaded new hires up with $5500 in debt that they owed to the company if they quit, got fired, or were laid off within two years. In a darkly hilarious turn, TRAP didn't even train you to groom pets. As a new class action suit led by ex-Petsmart employee BreAnn Scally reveals, most of the 'training' was just sweeping floors, and the 'four-week' course ended after three weeks." • There's that word: "smart" [makes warding gesture]. Avert!
"The 'Great Resignation' Started Long Ago" [Peggy Noonan]. "Part of the story of job-leaving in America has to do with early retirement. 'In 2021, older workers left their jobs at an accelerated rate, and they did so at younger ages.' They felt able to do so because their houses were suddenly worth more, they had retirement accounts, and they were afraid of getting sick. There are good things in what we're seeing. Workers, especially those in lower skilled jobs, have increased leverage—feeling more valued, able to demand good treatment and better salaries. More mothers who want to stay home with their kids feel able to do so. But there are also causes for concern. The unfilled jobs look to be setting the perfect historical circumstance to usher in a new rise of the robots. And it means something that there are many who'd like to join the Army but can't meet its mental- and physical-health requirements, for reasons including obesity. Which gets us to Mene Ukueberuwa's January interview in the Journal with the political economist Nicholas Eberstadt of the American Enterprise Institute. Mr. Eberstadt notes that recent workforce changes follow a postwar pattern. Usually after recessions, male labor-force participation drops, and when the recession ends it ticks up, 'but never gets back to where it was.' Labor-force participation for both sexes, he notes, peaked in 2000 at 67%. We're now 5 points lower than that. The work rate for those in their prime working years, 25 to 54, has been declining since the turn of the century. The economic implications are obvious—slower growth, less expansion—and the personal implications are dire. '' Mr. Eberstadt says. They stay home watching screens—videogames, social-media sites and streaming services. There is something 'fundamentally degrading' in this, and Mr. Ebestadt refers to an 'archipelago of disability programs' that help make not working possible. Staying apart, estranged from life and not sharing a larger mission can create 'really tragic long term consequences,' Mr. Eberstadt says. 'These young people aren't taking chances, leaving a job to start a small business. They aren't finding themselves. They aren't even looking.'" • Eberstadt is looking at the same population at Alex Moyer was looking at (Taibbi here), a population that, come to think of it, reminds me of the otaku in Japan. Eberstadt, being from AEI, thinks the answer is to slash disability. Moyer doesn't really pose a question. Of course, another way of saying "don't 'do' civil society" is "enormous opportunity." But we'll probably have a moral panic instead.
News of the Wired
I continue in my state of non-wired-ment.
* * *
Contact information for plants
: Readers, feel free to contact me at lambert [UNDERSCORE] strether [DOT] corrente [AT] yahoo [DOT] com, to (a) find out how to send me a check if you are allergic to PayPal and (b) to find out how to send me images of plants. Vegetables are fine! Fungi and coral are deemed to be honorary plants! If you want your handle to appear as a credit, please place it at the start of your mail in parentheses: (thus). Otherwise, I will anonymize by using your initials. See the previous Water Cooler (with plant)
here
. From IM: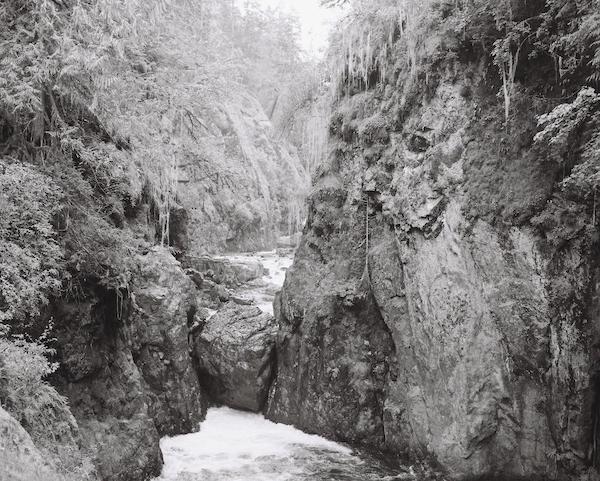 IM writes: "The Englishman River, near Parksville, BC, in good old fashioned black and white. This part of the river marks the transition point between the massive basalt of the Karmutsen formation, an ancient seafloor LIP (large igneous province) that ran into North America, forming a big chunk of Vancouver Island in the process, and the Nanaimo group, sedimentary sandstone, slate and mudstone eroded from the precursors to today's coast mountains. Nanaimo Group sandstone was used to build the San Francisco Mint, so this picture does have a finance angle. However, it is mostly basalt in this view. Cedar, Doug Fir, Broadleaf Maple, Spanish Moss, Alder representing Kingdom Plantae." I'd love to see a print of this. Wow!
* * *
Readers
: Water Cooler is a standalone entity
not
covered by the recently concluded and — thank you! — successful annual NC fundraiser. So if you see a link you especially like, or an item you wouldn't see anywhere else, please do not hesitate to express your appreciation in tangible form. Remember, a tip jar is for tipping!
Regular positive feedback both makes me feel good and lets me know I'm on the right track with coverage
. When I get no donations for five or ten days I get worried. More tangibly, a constant trickle of donations helps me with expenses, and I factor in that trickle when setting fundraising goals:
Here is the screen that will appear, which I have helpfully annotated: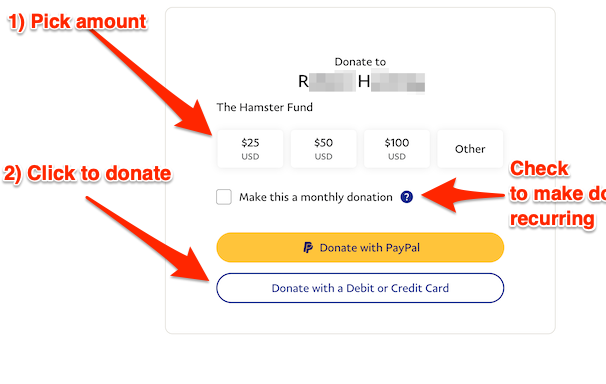 If you hate PayPal, you can email me at lambert [UNDERSCORE] strether [DOT] corrente [AT] yahoo [DOT] com, and I will give you directions on how to send a check. Thank you!