A land of contrast and enchantment, Southwestern Utah is truly a spectacular region of the US to have an epic road trip – and take more photos than you'll have room for!
With major highways like I-15 cutting through, Southwestern Utah is a highly accessible area to explore for folks from all over the western side of the country. The ease of access doesn't equal large crowds and long lines, if you know where to look.
Anyone who loves exploring red deserts and cedar filled forests will love the number of things to see and do. That's why you absolutely have to add making a road trip to Southwestern Utah a top priority!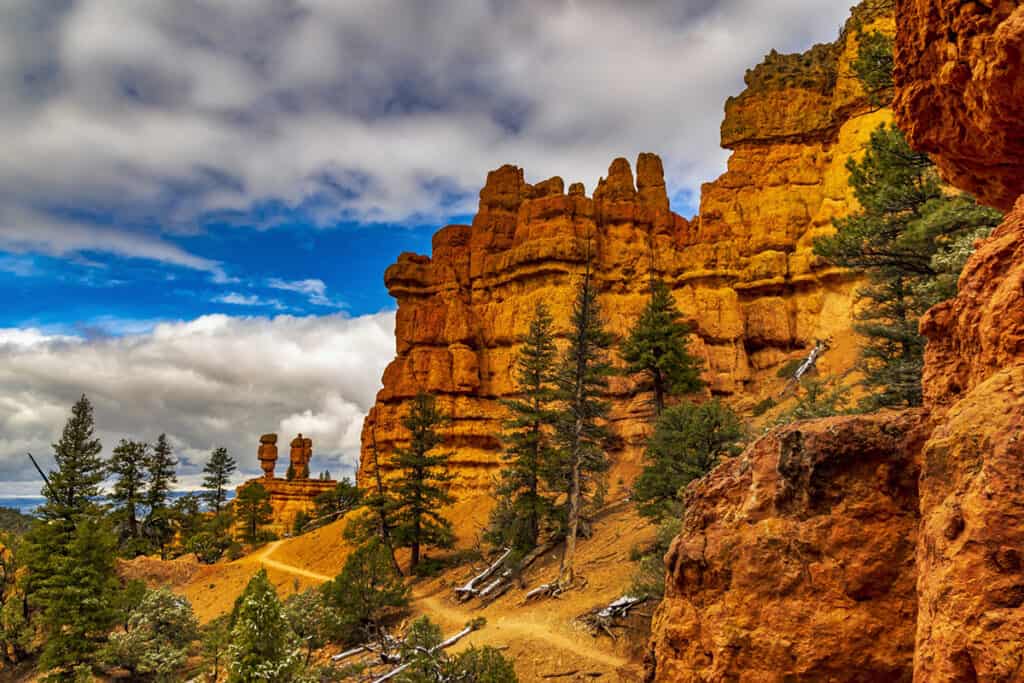 We also have this in-depth guide to Southeastern Utah which covers Arches, Moab, Canyonlands and several amazing state parks too.
If you've never visited the amazing natural wonders of Utah before or you've been plenty of times and want a fresh take on the area, you're in the right spot.
If you're starting from Salt Lake City (which has a huge array of fun things to do, so plan to spend a few days here too), head south towards the Nevada/Arizona borders into Bryce Canyon and Zion National Parks.
This post will give you all the info you need to plan the trip of a lifetime. Let's get started!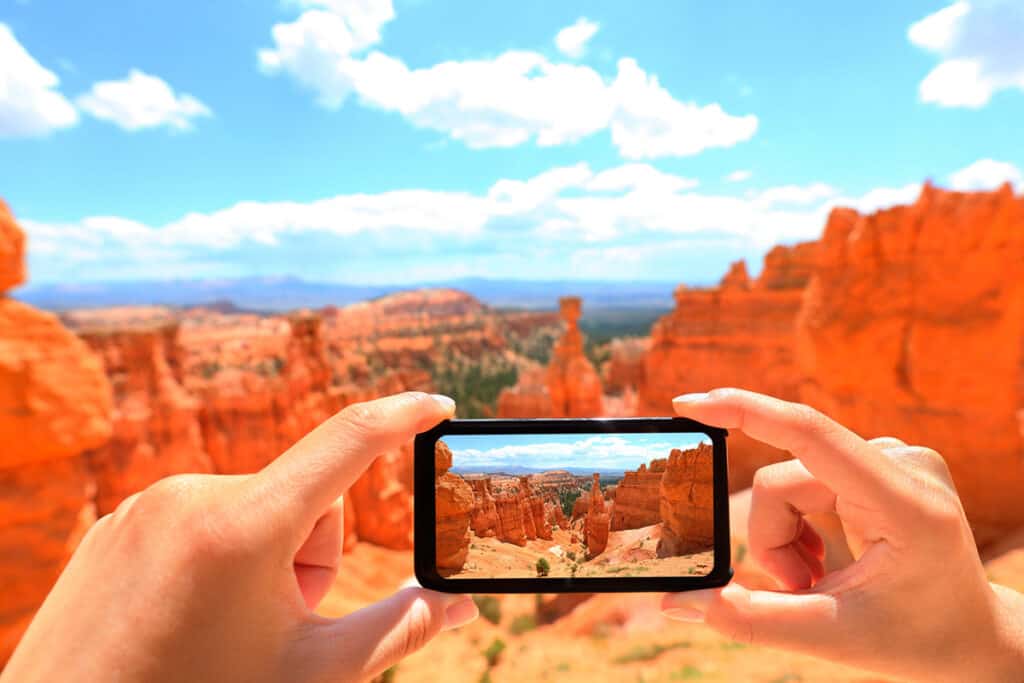 If you need some fun road trip games to play, there are 52 in this post to get you started!
Southwestern Utah National Parks
Utah is home to five amazing national parks. Each one has unique features that have visitors from all over the world coming back year after year to explore the natural wonders hidden within each one.
The most well-known of the parks that reside within Southwestern Utah include:
Each one of these gems is home to hiking trails that will leave everyone in your group breathless from the views (as well as from the elevation gains!).
Be sure to plan ahead when visiting and bring plenty of sunscreen and water. And always check the weather report before hitting the trails in these parks.
Each park regularly experiences monsoon-like thunderstorms, especially in the summer. The rapid downpour of rain results in some pretty spectacular flash flooding that can be dangerous to get caught in. If the weather is calling for rain later in the day, try to avoid going to these parks.
But when you plan ahead and know what you'll be getting into weather-wise, you'll love your trip to both of these national parks.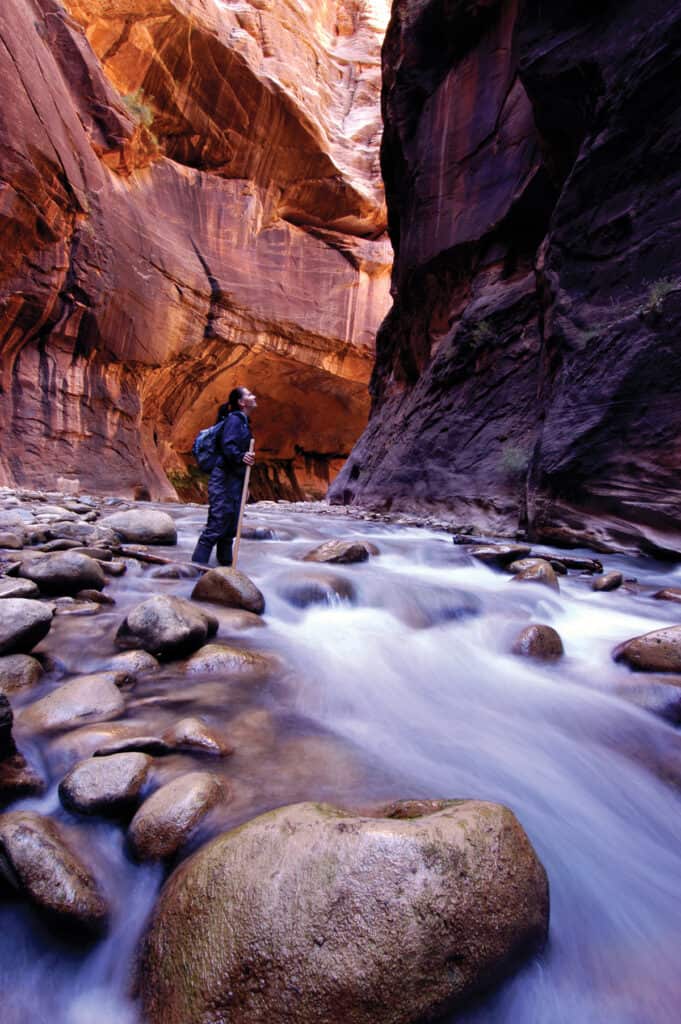 Zion National Park
The first can't-miss national park in Southwestern Utah is Zion.
Crowds from all around the country, and the world, visit Zion each and every year for good reason. The park is home to some of the most challenging hiking – if you want to be challenged, that is! You don't have to hike to see the stunning views in this entire national park.
Angels Landing is the most iconic hike to take while visiting Zion.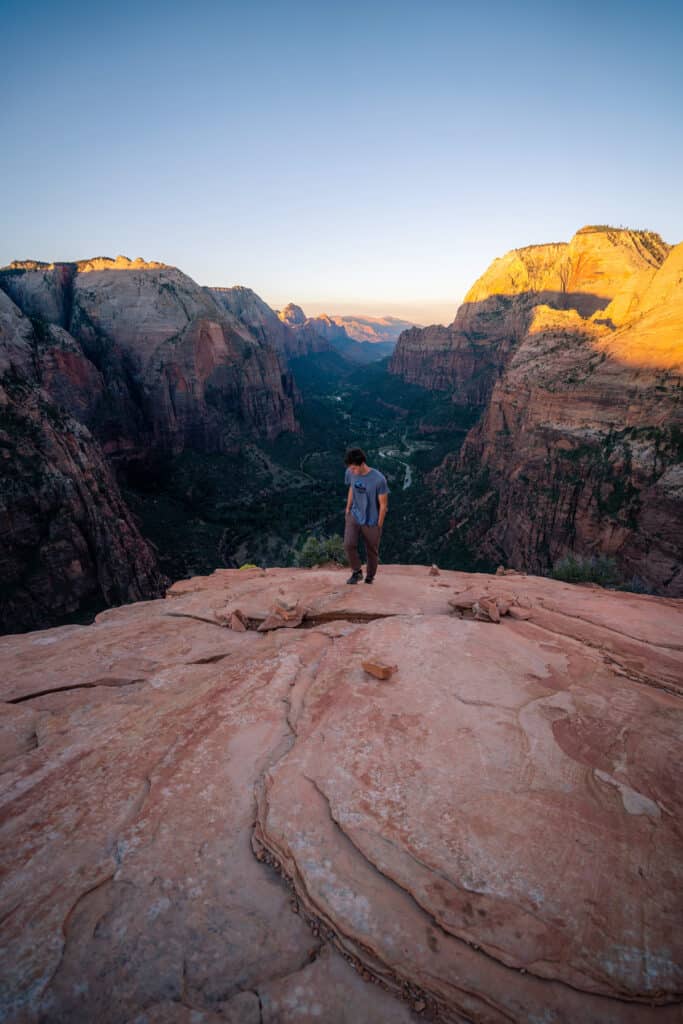 The hike is almost 5.5 miles from start to finish with just about 1,500 feet of elevation gain, so you'll want to budget about four hours to complete it. But when you see the views for real instead of pictures on the internet, you'll want to spend more time here.
The most exciting part of the hike takes you up the spine of the Angels Landing formation and exposes the rest of Zion National Park's vast canyons below.
Due to its popularity, you do need to get a permit from the ranger station. Permits are distributed in a lottery system, so try to get as many people as possible in your party to apply to increase your chances of drawing a permit.
If you don't end up getting a permit for Angels Landing, there are plenty more amazing hikes to take while visiting Zion. These include:
Observation Point
Emerald Pools
Taylor Creek Trail
The Watchman
Zion is also home to some pretty amazing rock climbing and canyoneering as well. Be sure to check out the visitor's center to get an insider's take on how to book a guided trip into some of the least visited areas of the park, as the major hiking trails like Angels Landing and The Narrows can get pretty crowded. 
Where to stay in Zion
Zion Weeping Buffalo Resort is a new resort in the Greater Zion area providing the full western experience. It's a luxury glamping resort and great for families or couples who stay in their cluster of conestoga wagons set around a pond, or in one of the posh tipis with king sized beds and waterfall showers.
My pick is one of the private cliff dwellings with a hot tub and fire pit. An RV park is coming soon, in fall 2022.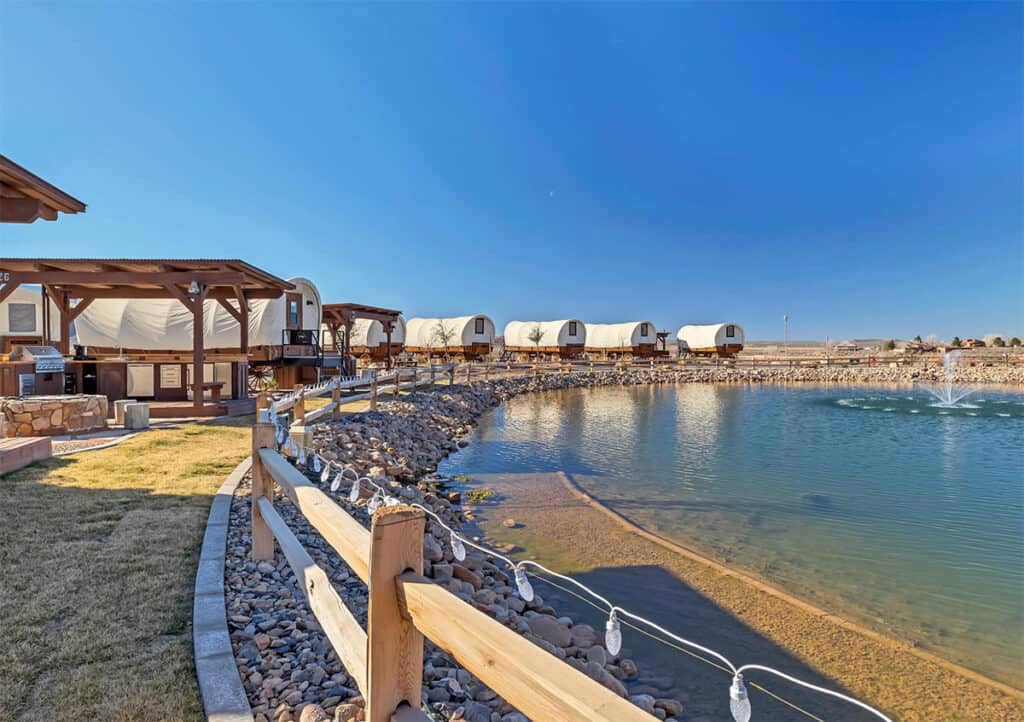 Cable Mountain Lodge is located in stunning Springdale, Zion in front of the red rock cliffs which tower behind. There is a pool for those hot summer days and a hot tub for the cool wintery nights.
Zion Mountain Ranch where you stay in your own lodge chalet and watch the buffalo roaming by. There are private cabins and individual lodges with fire places – with one being spread over three floors and sleeping 9. Ideal for families and groups, or take a small cosy lodge for a quiet break away.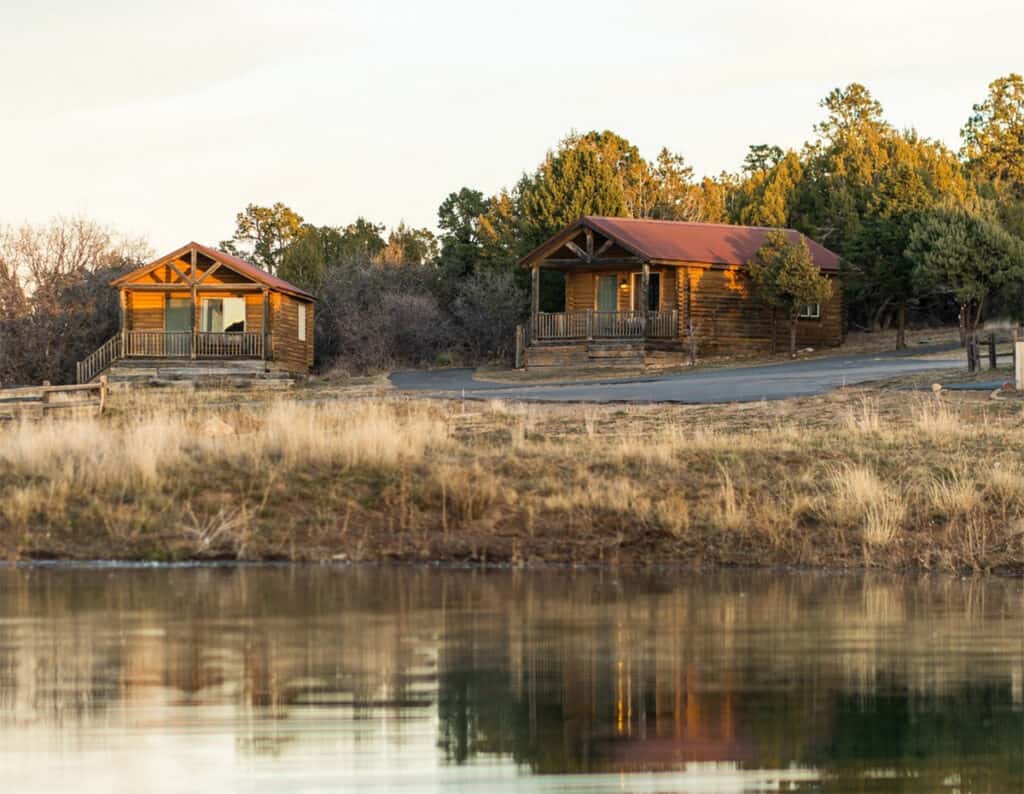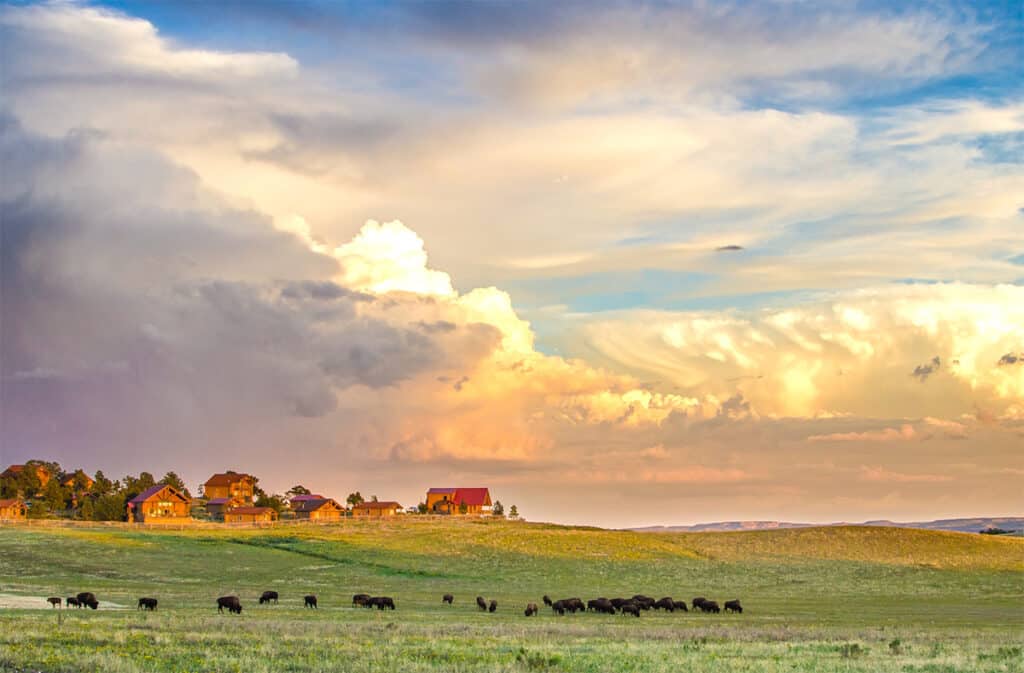 Bryce Canyon National Park
If you've visited Goblin Valley State Park, but you've never set foot in Bryce Canyon National Park, you've gotta go check it out.
Like in Goblin Valley, Bryce Canyon is full of mysterious and enchanting hoodoos. The hoodoos in Bryce Canyon are even taller and more spectacular than those inside of Goblin Valley if you can believe it!
Bryce Canyon is home to several awesome hiking trails that will expose you to some of the most unique geology in the entire state. The can't miss trails to hike in Bryce Canyon are: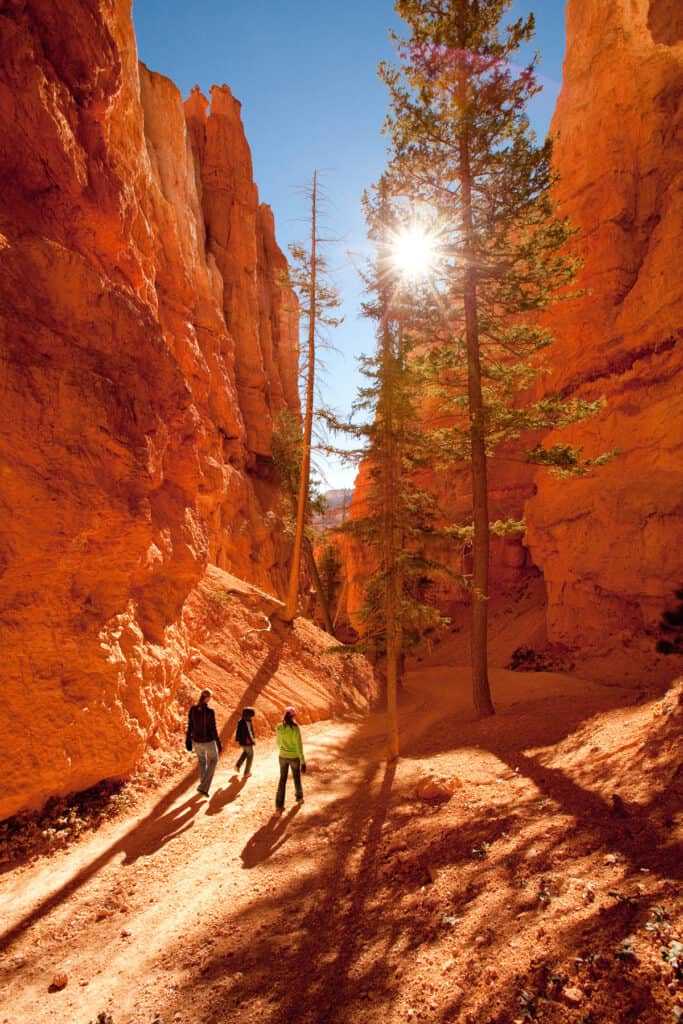 One of the best times to visit Bryce Canyon is during the winter. The snow that falls on the hoodoos creates a striking contrast between the white of the snow and the red and orange colors of these geographic anomalies that will leave you breathless.
If you do decide to visit Bryce Canyon in the winter, be sure to pack plenty of layers as the average elevation here is 8,000' which will feel incredibly chilly. But if you dress warmly and bring a thermos of coffee, there really isn't anything quite like watching the sunrise over the snowcapped hoodoos in the winter. It's just something that you have to be there to experience!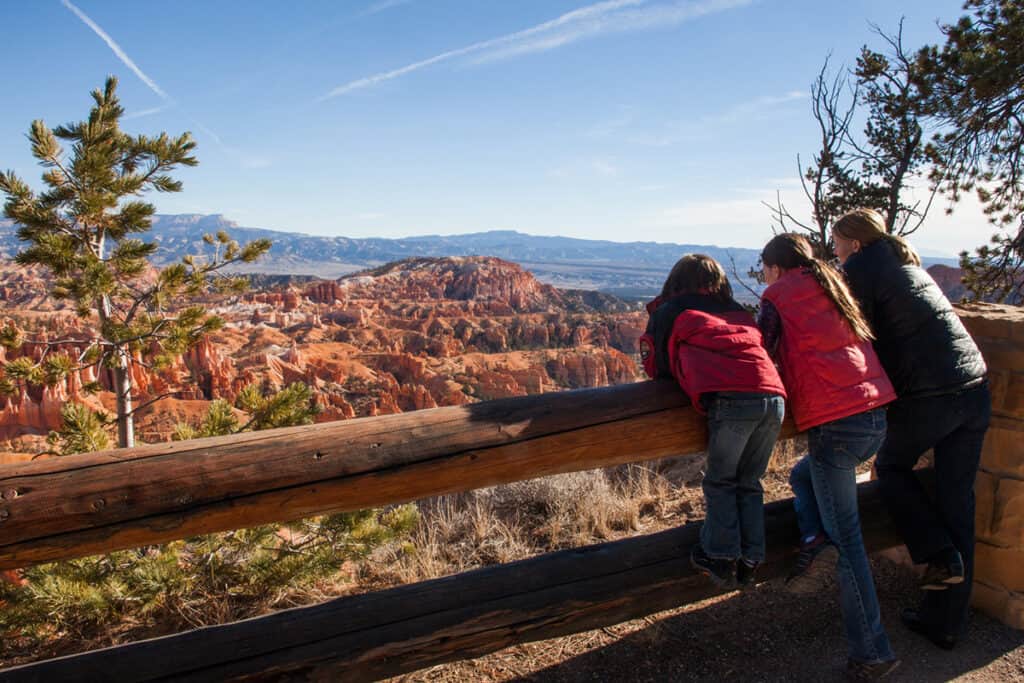 Camping at Bryce Canyon National Park is still competitive for spots, but not nearly like it is in Zion.
Bryce is also home to some pretty spectacular backpacking opportunities for those looking to break away from the crowds at North and Sunset Campgrounds.
The main trail that backpackers can use for overnight backcountry experiences is called Under the Rim Trail. It meanders through a variety of terrain from cedar and pine filled forests to along the edge of cliffs that line the rim of Bryce Canyon.
Plan on spending a couple nights out on the trail to fully enjoy the nearly 23 miles of backcountry bliss that awaits you. Just make sure to get a permit for backcountry camping at the visitor's center before you set off on your adventure.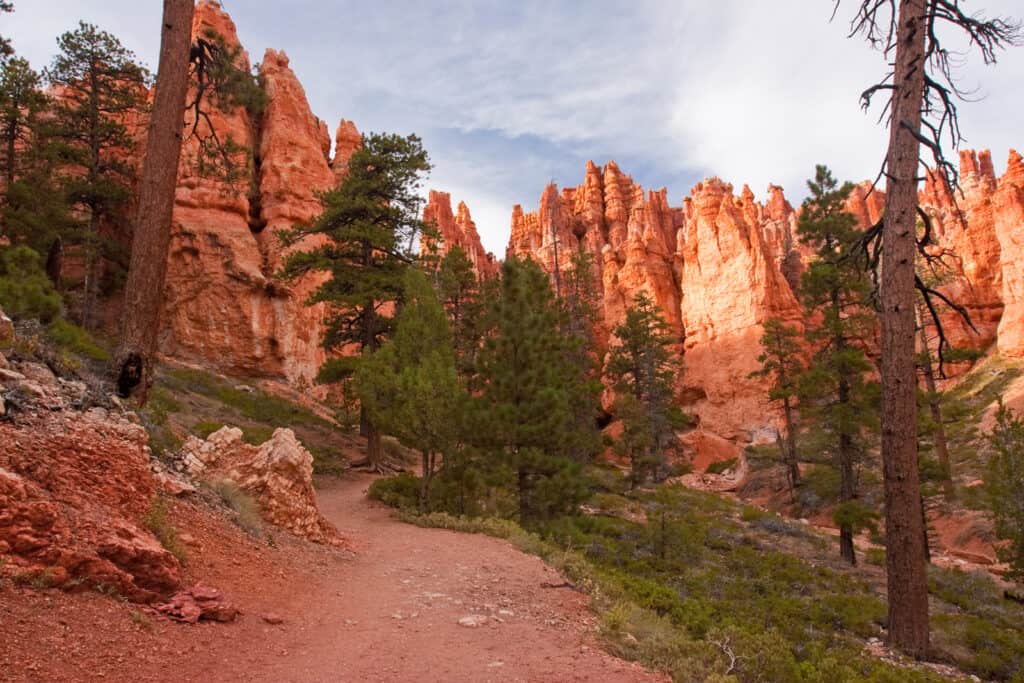 Where to stay in Bryce Canyon
Bryce View Lodge is a budget family-friendly hotel at the edge of a pine forest that overlooks beautiful Bryce Canyon National Park. Comfy, clean rooms and convenient amenities make this an ideal base camp for your Bryce Canyon adventure.
Yonder Escalante is a glamping site that was once an outdoor movie theater. It is near Bryce Canyon National Park and better suited to couples. You can stay in airstreams, modern cabins or use the RV park. The highlight is being able to watch movies in the retro cars on site!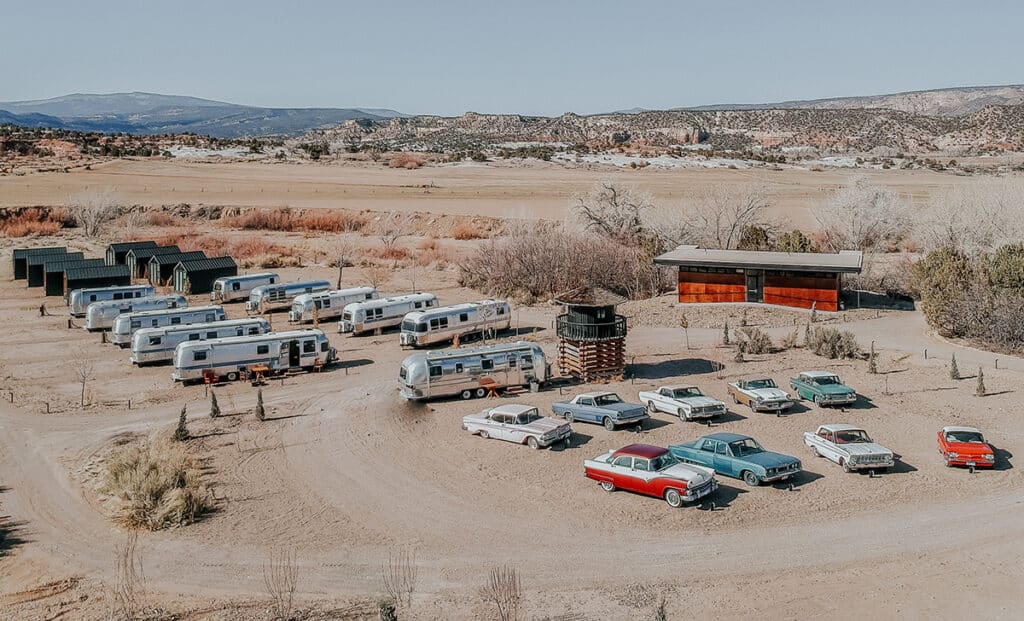 Southwestern Utah State Parks
Like in Southeastern Utah, there are plenty of spectacular scenes to explore in the state parks that you won't want to miss.
The best part about the state parks in comparison to the national parks is that there are far less crowds to compete with for campsites and parking spots for hiking trails. Plus, the fees for entrance are usually much lower as well.
Coral Pink Sand Dunes State Park
One of the first state parks you should visit while exploring Southwestern Utah is Coral Pink Sand Dunes State Park.
The park is full of amazing views, hiking trails, mountain biking trails, as well as off-roading opportunities. There's something for just about everyone to enjoy here.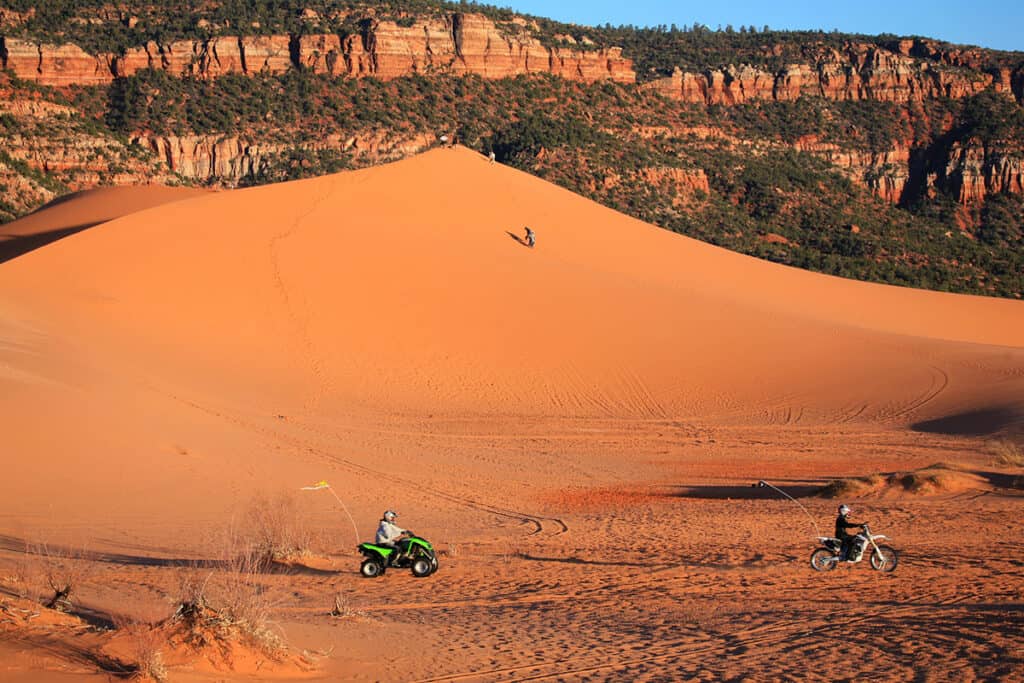 Coral Pink Sand Dunes State Park is also home to some of the best stargazing in the state.
Designated as a dark sky reserve, the park is one of a few areas in the US that has extremely low light pollution that washes out the night sky. This provides some of the best views of the blanket of stars burning brightly as well as rare viewing opportunities of the spirals that make up the Milky Way Galaxy! 
If you want to get some spectacular pictures of the night sky, don't forget to bring your biggest lens and a tripod for your camera to get as much light as possible to capture the beauty for years to come.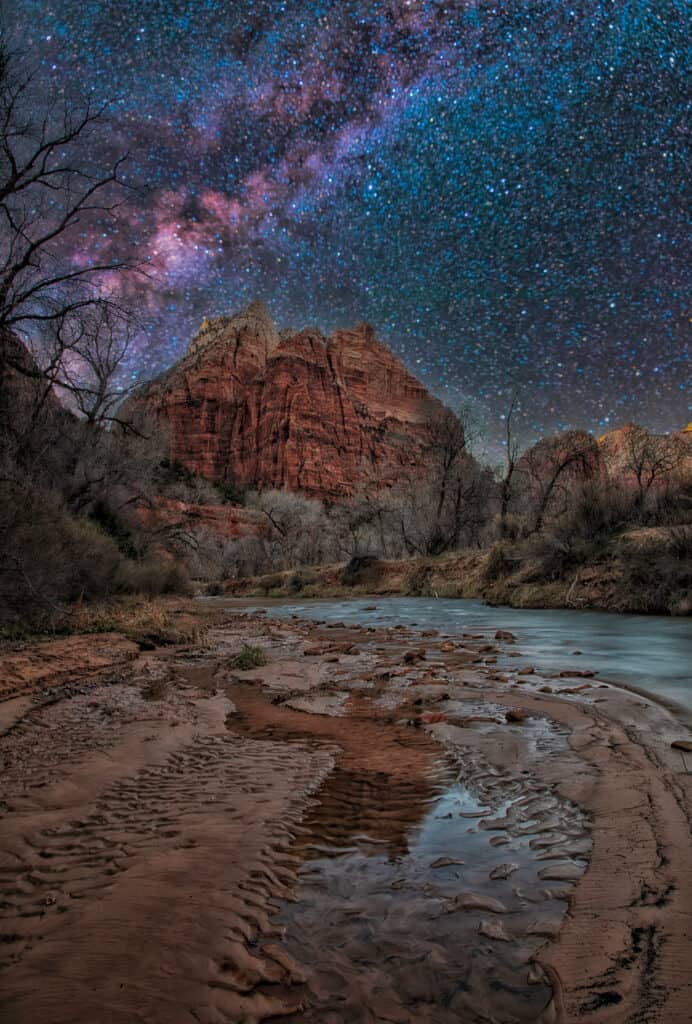 Fremont Indian State Park
If you missed your chance to view the stars at Coral Pink Sand Dunes State Park, don't sweat it! Fremont Indian State Park is also designated as a dark sky reserve and is part of the International Dark-Sky Association. 
One of the best things you can do when visiting Fremont Indian State Park is to join one of the ranger lead stargazing programs.
You'll get an expertly guided experience of the night sky, learn about the various star constellations, and hear the stories that surround the lore of the stars from the various histories of people who have stared at the night sky and wondered about the beauty of the stars just like you.
Once you've gotten your fill of star gazing, don't forget to check out the petroglyphs that line the canyon trails of Fremont Indian State Park.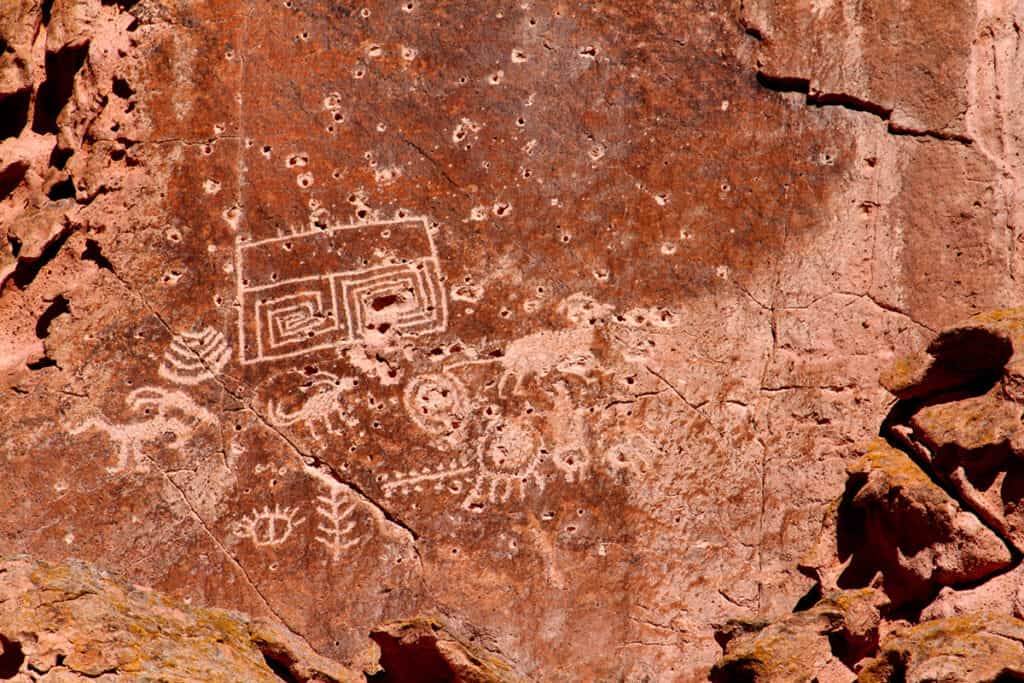 Left mysteriously by the first people to live in Utah thousands of years ago, they serve as a reminder of the past.
Historians still aren't sure about what happened to the Fremont people, so the petroglyphs are a small window into what they valued. It's hard not to get engrossed in the mystery of the carvings left behind in the rocks.
Snow Canyon State Park
Utah has no shortage of cinematic landscapes. Like in Southeastern Utah's Monument Valley, Snow Canyon State Park is home to several areas featured in movies too.
Some of the most prominent titles include Jerimiah Johnson, Butch Cassidy and the Sundance Kid, as well as The Electric Horseman. When you visit, you'll understand why.
Snow Canyon State Park holds some of the most intricate mazes of slot canyons and towering cliff side vistas in the state.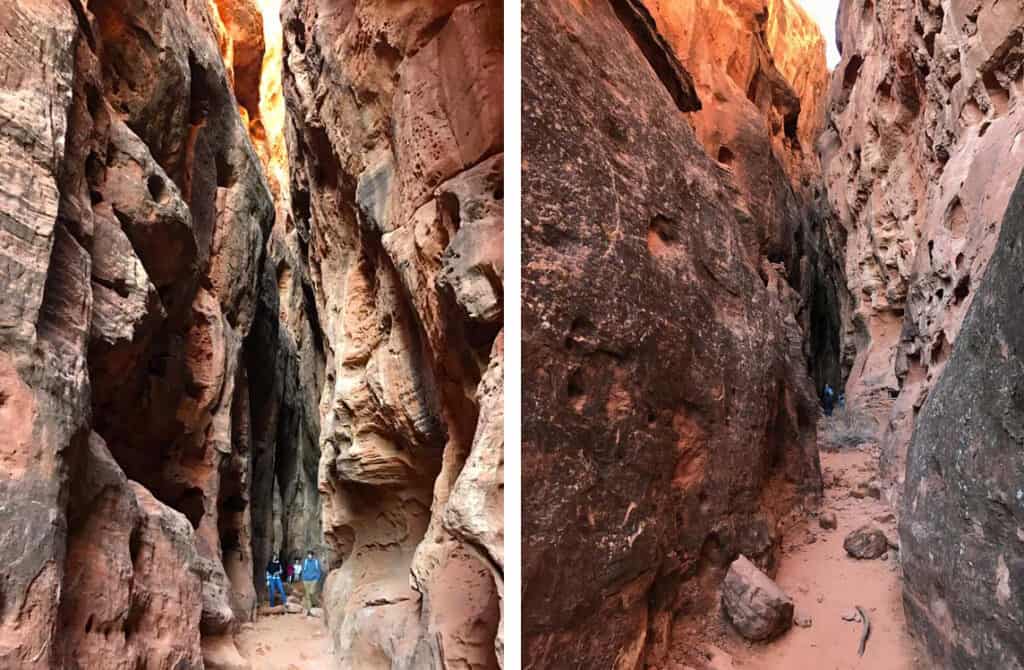 During the age of the cowboys, many bandits and cattle rustlers sought refuge in the mazes as they hid from the law.
As you hike through the park, you'll understand how they were able to evade capture as you can get lost pretty easily if you spend enough time exploring the many slot canyons. And maybe if you're lucky, you'll stumble upon an old stash left by thieves that never returned to claim their loot!
Kids will love visiting Snow Canyon State Park as they have an excellent junior ranger program. They'll learn all about the geological, natural, and human history of the area in hands-on programs led by knowledgeable and friendly rangers.
Plus, they'll get the opportunity to throw an atlatl. Atlatls were the main way that the ancient Fremont people used to hunt and what kid doesn't want to be able to try their hand at throwing a dart with an ancient hunting tool!
Where to stay near Snow Canyon
The Advenire is a hip and modern, pet-friendly hotel located in downtown St. George. A great location if you like to pop out for dinner, a bit of shopping, and organise wilderness experiences from this base. Their on-property restaurant, Wood Ash Rye, is a must-visit.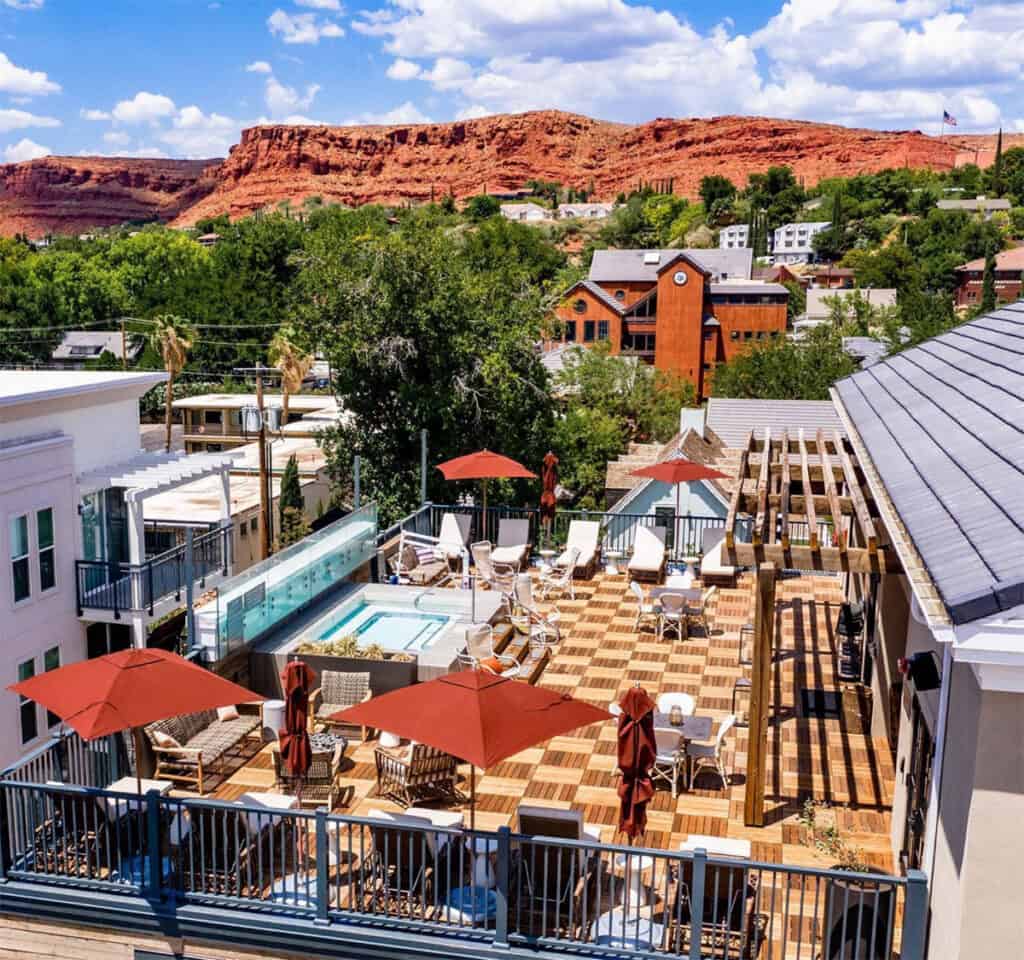 Southwestern Utah National Forests and Public Lands
Aside from the many national parks and state parks that reside in Southwestern Utah, there are millions of acres of public land available to explore.
The best part is that a lot of these areas are free to use and offer a wide range of outdoor activities to experience.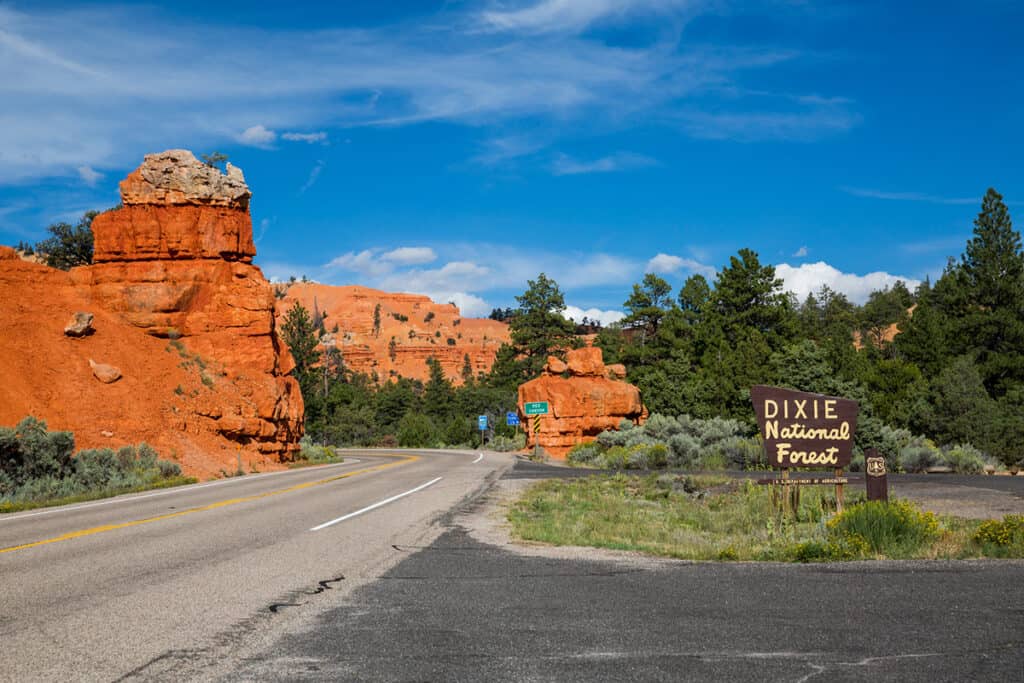 Dixie National Forest
With over 2 million acres, Dixie National Forest is an outdoor enthusiast's paradise.
You can find practically every sort of outdoor activity to do here. From developed campsites to backpacking and from horseback riding to ATVing, there's something for everyone to enjoy.
Plus the variety of areas to explore will have you coming back year after year as there just isn't enough time to see it all in one trip!
Mountain bikers will love visiting Dixie National Forest, especially near St. George, Utah.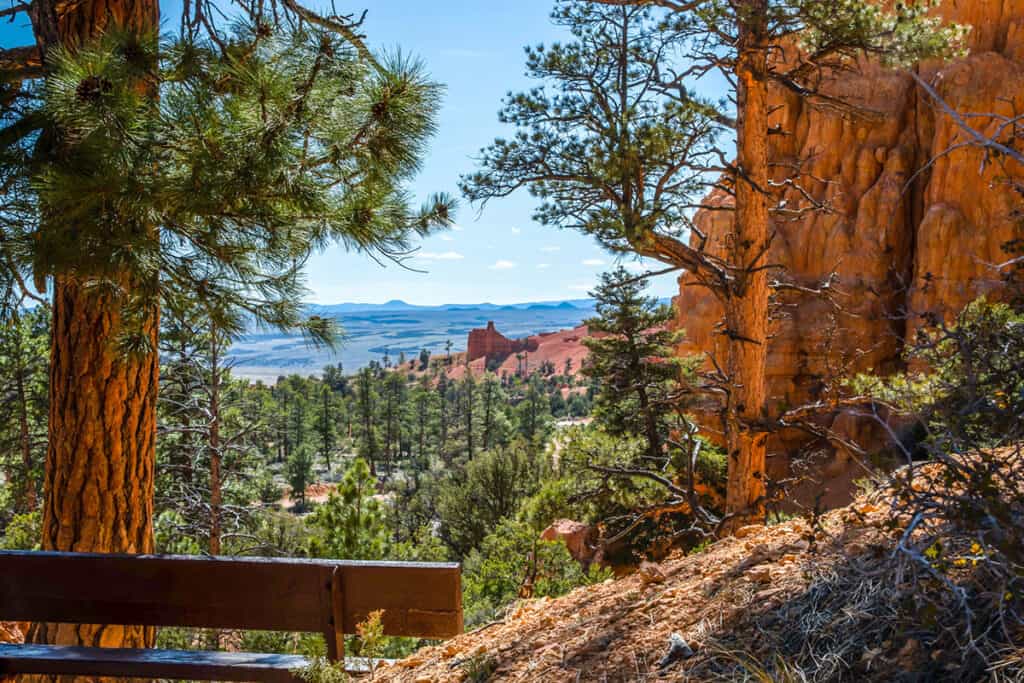 There are miles upon miles of beautiful desert single tracks for mountain bikers to enjoy riding through. From easy flowy trails to difficult technical trails, you'll find something that is suitable for just about every ability level on the 430 miles of mountain biking trails here.
Where to stay
If you have a few bucks to spend, why not stay in quite possibly the most breathtaking resort in all the US! The five-star Amangiri Resort is a secluded luxury desert oasis tucked away in near Canyon Point, south of Bryce on the border with Colorado.
This adults-only resort has every amenity you could long for, plus stunning scenery and seclusion. You will never want to leave!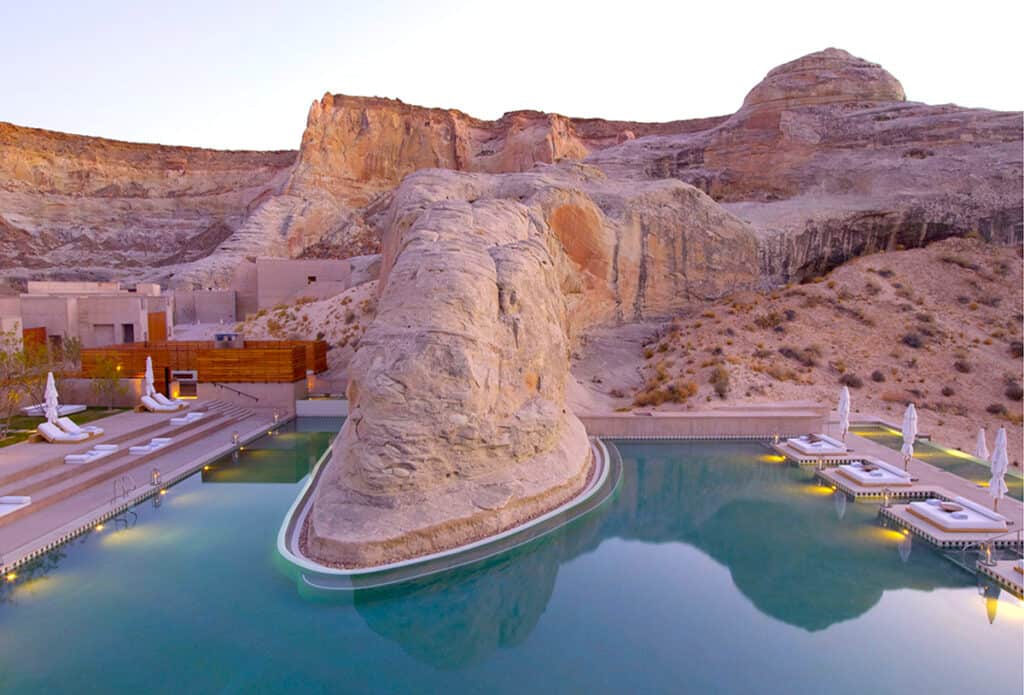 Or for something different again, try the glamping tents at Under Canvas Lake Powell-Grand Staircase.
Open from March until October, these luxury tents (with king size beds and ensuite bathrooms) are perched on a canyon rim plateau and they have their own on-site slot canyon and sweeping views right outside. Enjoy sitting around the nightly fires with complimentary s'mores.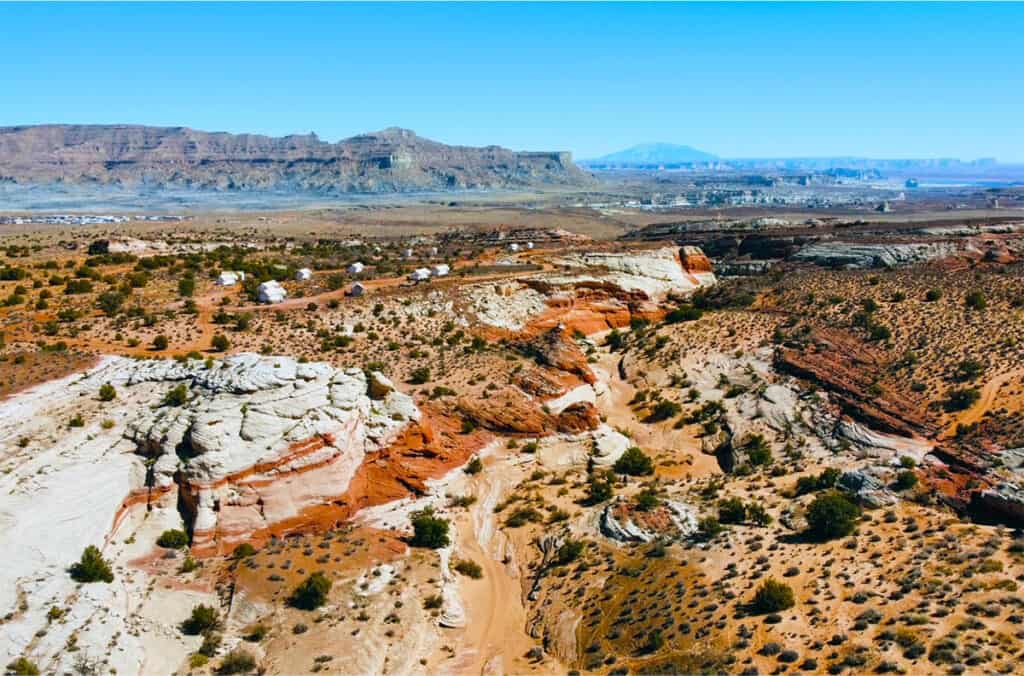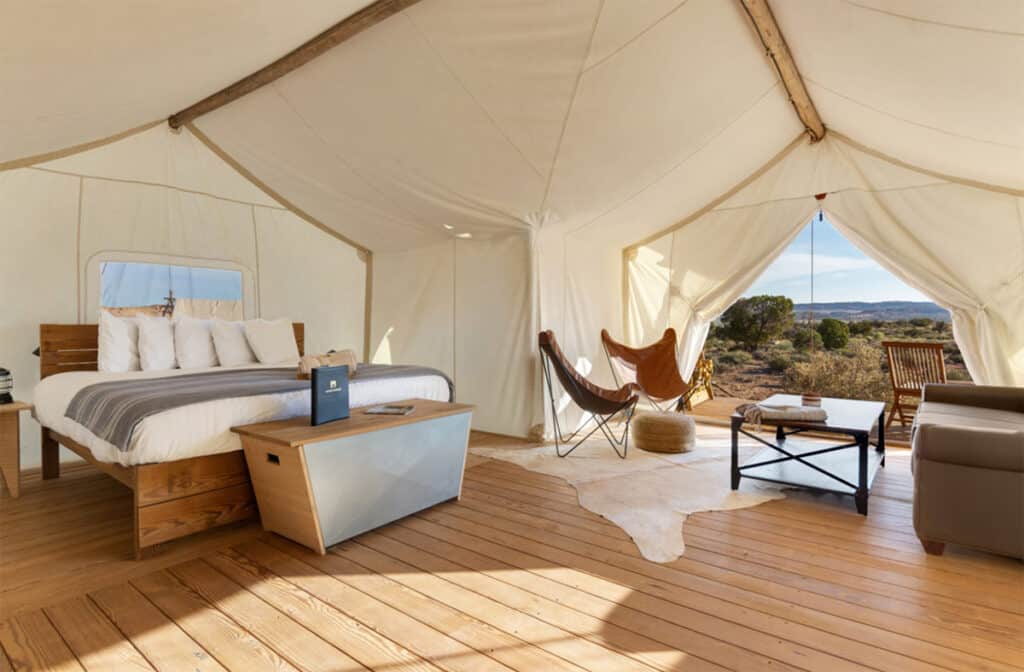 Best times to visit Southwestern Utah
Southwestern Utah is really close to the Nevada and Arizona borders, so the temperatures here are fairly mild from October through May.
From the end of May until the end of September temperatures can get pretty high during the day, so it's wise to bring plenty of water and sunscreen, especially when visiting in the summer. 
While temperatures stay pretty mild in the lower elevation desert regions, higher elevation areas do see snow during the winter. If you're visiting during the winter, be sure to pack plenty of layers!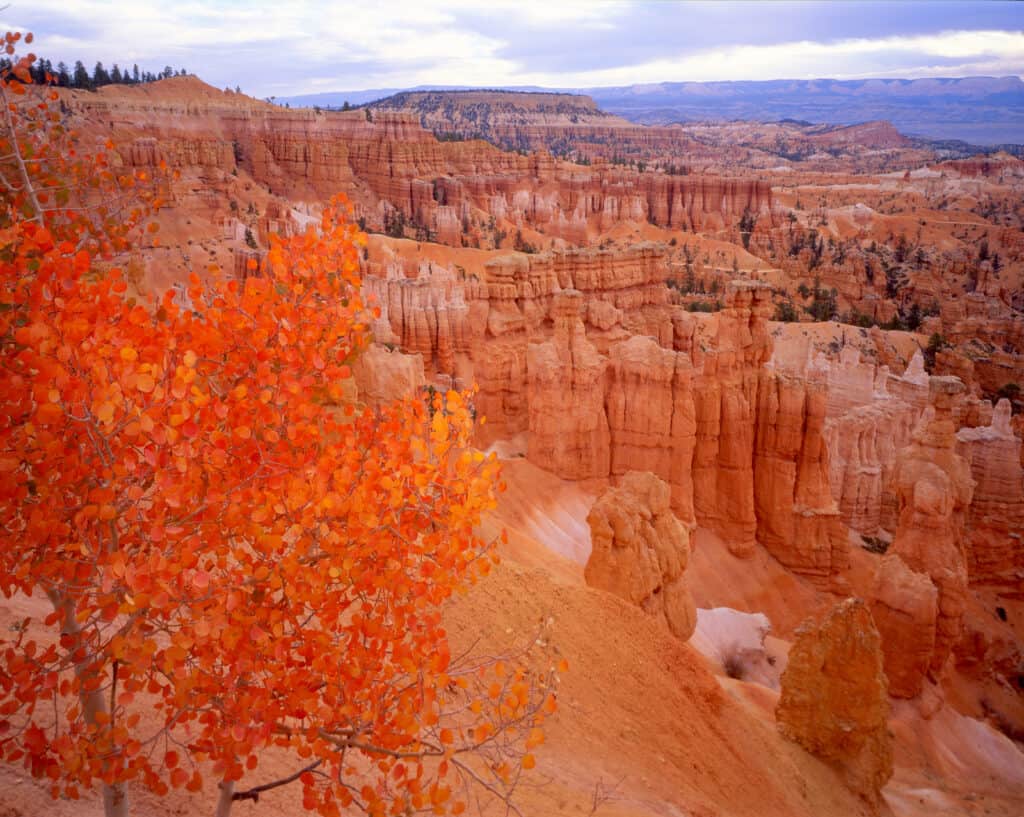 Summertime
The best time to visit Southwestern Utah during the summer is May and the beginning to middle of June.
Temperatures in the lower elevation areas during the summer can get dangerously hot, so it's best to get to higher elevations when you plan on visiting during those months.
There are plenty of areas to go hiking throughout Southwestern Utah during the summer. One of the best areas to hike is Cedar City. You'll find plenty of densely covered forests to walk through which will keep you shaded from the sun most of the day.
Wintertime
Winter travel to Southwestern Utah gives you the unique opportunity to hike, rock climb, mountain bike and ski all in one day if you wanted to!
In fact there are two ski areas to choose from when visiting Southwestern Utah: 
Eagle Point Resort
Brian Head Resort
Of the two resorts, Brian Head is the easiest to visit as they have more operating hours in comparison to Eagle Point.
Brian Head is open 7 days a week while Eagle Point is only open Friday through Sunday. In terms of terrain, each resort is pretty comparable with about 650 skiable acres.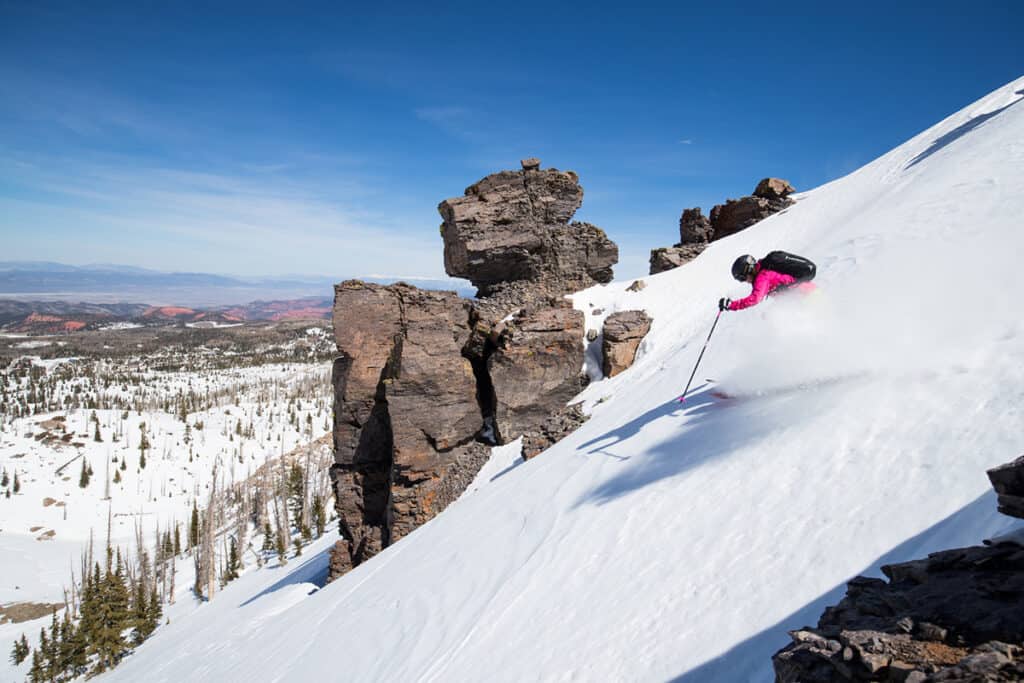 Pro Tips for visiting Southwestern Utah
The biggest pro tip to keep in mind when planning out your trip is to book your accommodations well in advance of when you plan to visit.
Another important thing to keep in mind when traveling to Southwestern Utah is that it's incredibly important to stay on designated trails and roadways.
While it might be tempting to venture off trail and into the desert, the microbiological critters that call the desert floors home here are incredibly sensitive. If you drive over the soil in undesignated areas, you risk permanently damaging the soil.
Do your part by traveling responsibly to preserve the beauty of Southwestern Utah for years and years to come.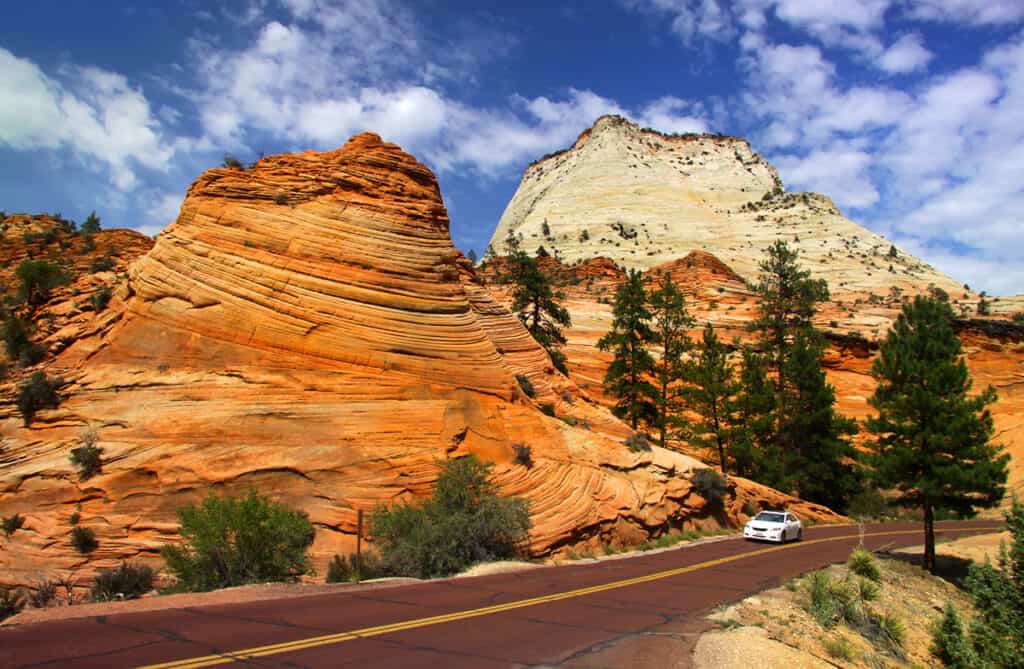 Also, be sure to bring plenty of water and an emergency roadside kit to help keep you safe in the event that you break down.
As you travel away from towns like St. George, Cedar City, and Virgin, you'll quickly find yourself in some pretty desolate country. The last thing you want to have happen is to get stranded somewhere and have to sit tight until someone comes by without some supplies to keep you safe.
Make certain that you have a way to contact someone in the event that you do break down in an area without cell phone service by bringing a Garmin In-reach or a SPOT locator beacon. That way you'll have the peace of mind that someone will have your location in the event of an emergency.
And the best thing to remember if you do end up broken down on the side of some backcountry road is to stay put. Don't try to walk your way out as it's much easier for search and rescue to spot a car while scanning for you than it is for them to spot you walking by yourself.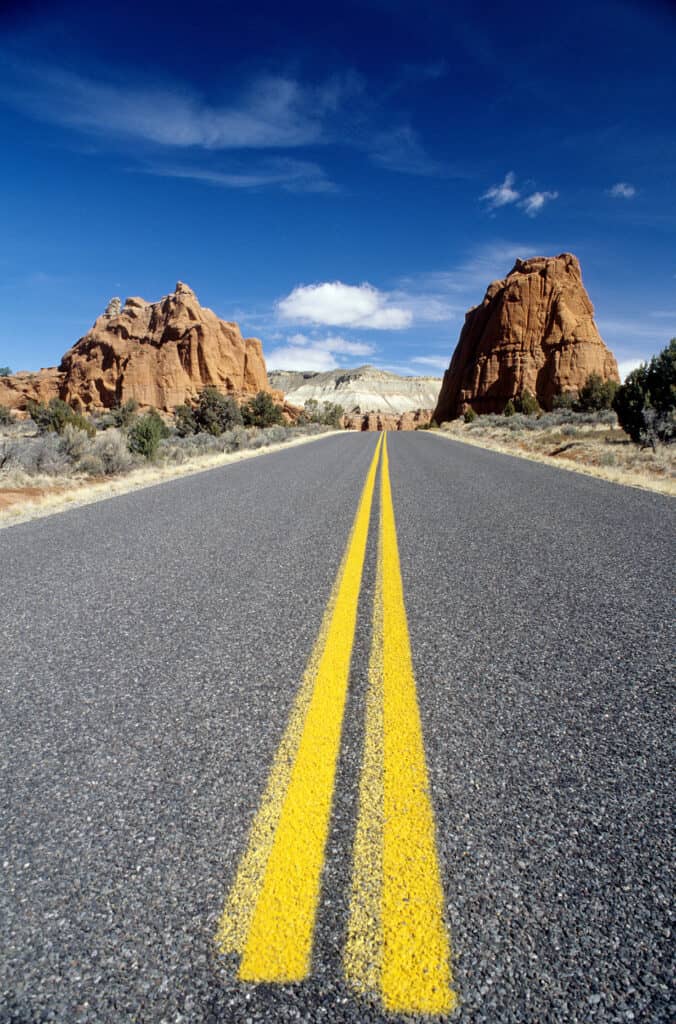 Final thoughts
Southwestern Utah is one of the best places to plan an adventure to. Each season brings new possibilities, which keeps visiting the various areas fresh and new each time you go!
From the enchanting slot canyons of Zion to the sweeping vistas atop the many plateaus of Dixie National Forest, you'll find something that will delight everyone in your group when you visit this magical corner of Utah.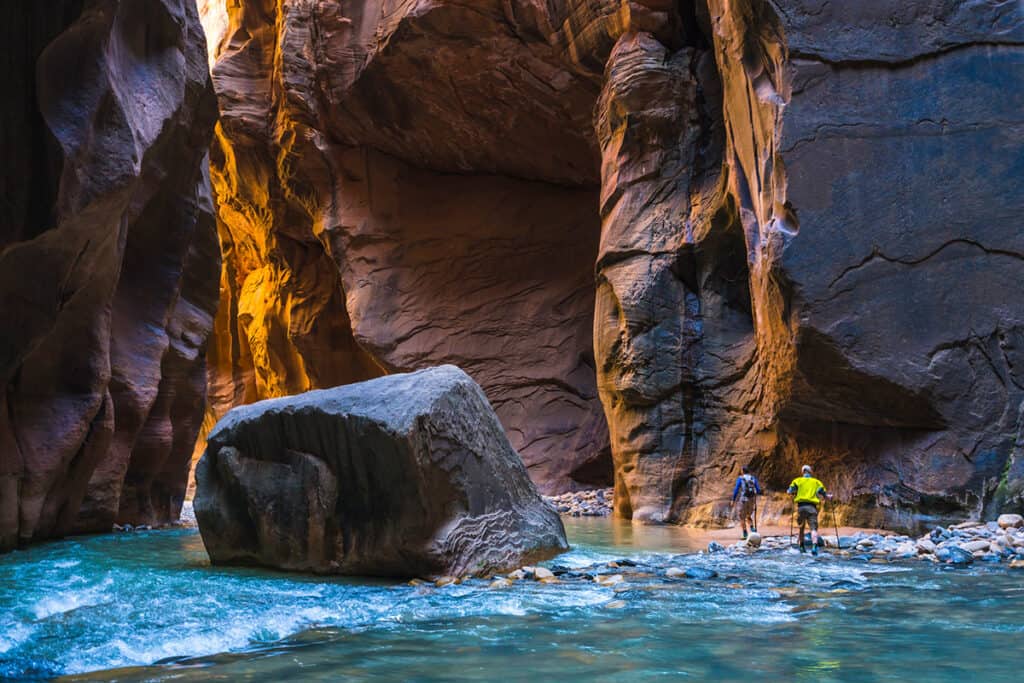 You might like some of my other Utah posts:
• Our fabulous 7-day Utah road trip itinerary
• The Ultimate Southeastern Utah road trip guide
• 32 fun things to do in Salt Lake City
• 7 delicious Utah hot springs for a soak
• Walk through amazing Bryce Canyon