I'll be retiring at 55 in three years with a $60,000 a year pension. Can you help me find an area that meets my requirements and secondary wish list?
Driving distance to big airport
Great weather for arthritis (I like Las Vegas)
Low or no taxes on a pension
I will have about $125,000 to put down on a property and wouldn't want to spend more than $1,400 a month on mortgage payments
Secondary wish list:
New or newer construction home/townhome/retirement community
Near an ocean (or short flight to one)
Scenic area
Thanks for your time! I hope you can help!
Glenn
Looking for ideas on the best place for you to retire? Email: HelpMeRetire@marketwatch.com
Dear Glenn: 
Congratulations on your upcoming retirement and I commend you for planning ahead. Three years gives you time to check out your new potential home base in a variety of seasons to see if you truly love it before you relocate.
Given your primary requirements for low or no taxes on a pension, I'd point you to the eight states with no income taxes whatsoever: Alaska, Florida, Nevada, South Dakota, Tennessee, Texas, Washington and Wyoming. 
Adding in your desire for great weather for arthritis, stick to states with low humidity in the summer.
Meanwhile, your budget of a $125,000 down payment and $1,400 mortgage payment puts you roughly at a house value of about $375,000.
The MarketWatch "Where Should I Retire" tool recommended a variety of Texas towns such as Amarillo, Canyon, El Paso and Lubbock. It also recommended Sturgis, South Dakota and Stevenson, Washington.
Here's a look at our favorite options: 
Las Vegas, Nevada
You already said you liked Las Vegas and it hits your top requirements of a major airport, no taxes and great weather for arthritis. The average home in Las Vegas is about $392,000, according to Zillow.com, but that's close to your range. 
Las Vegas, of course, is known for its megawatt strip of casinos, but it's also close to scenic locales. Red Rock Canyon is just 17 miles from the Las Vegas Strip. It boasts a 13-mile scenic drive, as well as hiking trails, rock climbing, horseback riding and mountain biking areas.
Within an easy drive from Sin City is the Hoover Dam, about 45 minutes away, and the Grand Canyon, just over two hours by car.
Of course, there are some caveats to retiring in or near Las Vegas. The city has a higher crime rate than the national average and it bears high utilities rates and gasoline prices due to its desert location. Also, no ocean.
Still, if you already know you like it, spend some time there and get to know the surrounding suburbs and communities and see if it's really for you.
Spokane, Washington
Spokane is a great city itself—it's not merely the second largest city in Washington behind Seattle. It's got a beautiful riverfront park, as well as Manito Park. The Spokane River runs right through the heart of the city and there's dozens of nearby lakes and rivers. It's also only 30 miles to beautiful and scenic Coeur d'Alene, Idaho.
The city boasts great restaurants, a major airport and cultural venues such as an art deco theater called the Martin Woldson Theater at The Fox, which is the home of the Spokane Symphony.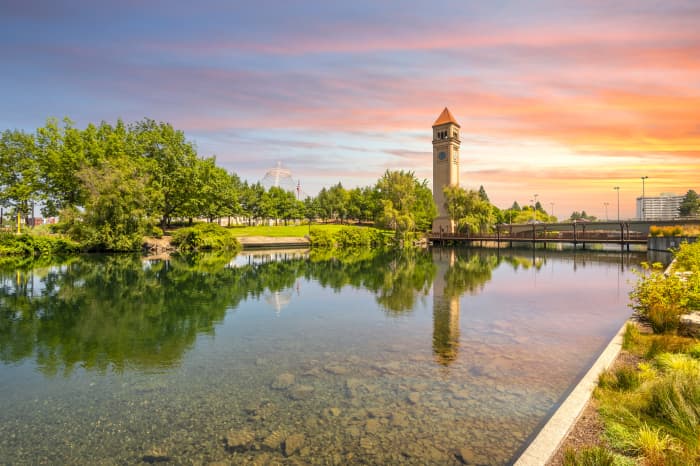 The summers are short and dry with low humidity. The winters draw about 44 inches of snow a year. Depending on how your arthritis reacts to cold, Spokane could be a good fit for you. Of course, there's no ocean (it's a short flight away), but you can swim in the Spokane River at Boulder Beach.
Zillow.com puts the average home price in Spokane at about $383,000, which is just a fraction above your budget.
Readers, where should Glenn retire? Leave suggestions in the comments.
More Where Should I Retire? columns:
I'm looking for a place that has year-round mild, sunny weather and is near or on the water, and my budget is $125,000 — where should I retire?
We want to retire somewhere with pleasant winters. Our budget is $600,000-$700,000. Where should we go?
We want culture, dining and wilderness in areas with homes for $300,000 – so where should we retire?