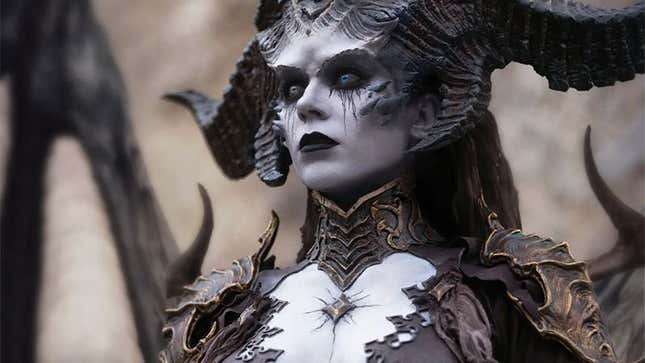 Cinderys is a professional cosplayer from France who has been active in the scene for almost a decade now. Over the years she's cosplayed as a bunch of Blizzard characters, from World of Warcraft to Hearthstone, but her latest Diablo work is terrifyingly good.
The Week In Games: What's Releasing Beyond Diablo IV
Before we go any further: yes, I said professional cosplayer. As I've written about previously, there's a certain level of cosplay where artists can engage in paid, sponsored work, and Cinderys has been doing this for a while. The Diablo cosplay here, for example, is the result of a collaboration between her, Blizzard France and peripheral company Steel Series, which technically makes this advertising, but also gives Cinderys the time and resources to make something that looks this incredible.
As you can see in this quick making-of video, putting a costume like this together wasn't easy. There was sewing, of course, but also loads of 3D model work (being sponsored can help with access to that stuff), 3D printing, prosthetics and make-up. Somehow—with a little help at the end from fellow French cosplayer Xia—Cinderys not only got it all together, but built the whole thing from scratch in just a month:
Finally, here's some footage from Diablo IV's launch party in France, which shows that the costume not only looks incredible in photos, but was entirely (RELATIVE FOR COSPLAY) practical to walk around in for the night.
If you want to see more cosplay work like this that's just as good, Cinderys has a portfolio section on her personal website that has some absolute show-stealers, not just from Blizzard games but stuff like Monster Hunter as well. Her Savathûn from Destiny 2 is a particularly "holy shit" kind of photo gallery.