Colorado is known for its stunning scenery found throughout the Rocky Mountains.
Those impressive mountain views, expansive alpine meadows, and crystal-clear lakes are all hallmarks of the Centennial State. 
Hiking is one of the best ways to experience nature in Colorado, not only for the obvious benefits to your physical and mental health, but to really engage with the state.
Yet, with so many hiking trails to choose from, it can be hard to know where to start. There are numerous national parks, national forests, and state parks that are located across many mountain ranges.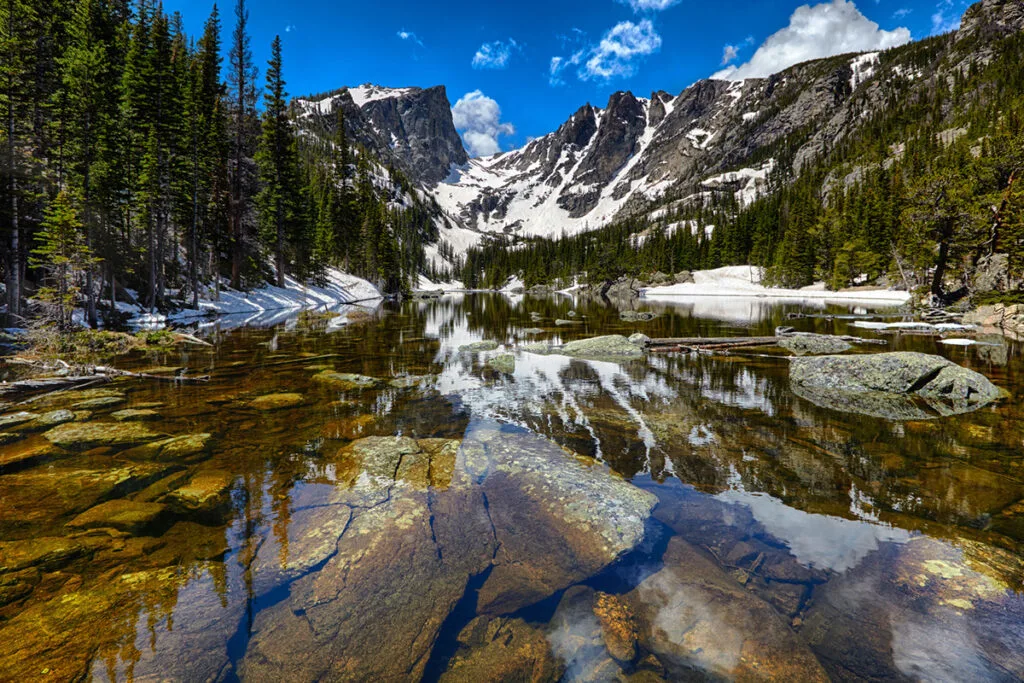 But the good news is since they are located all across the state, there is a good option for hiking in every region. 
To help you get started, this list covers some of the best hikes in Colorado. These hikes range from easy to strenuous, so there is sure to be one for every skill level. 
So charge your phone and get your camera eye in to take a moment and capture it as you walk.
*This post contains a few affiliate links. That means if you make a purchase, I may make a small commission at no extra cost to you.
1 Emerald Lake 
Rocky Mountain National Park is the gem of Colorado, attracting over 4.5 million visitors every year.
Hiking Emerald Lake Trail is one of the most popular Colorado hikes, and for good reason. It is a pristine alpine lake with jagged mountains, including Hallet Peak and Flattop Mountain, serving as the backdrop. 
As if that wasn't enough, the trail also passes by two more lakes on the way. Nymph Lake is the first one you will come across, then you will walk by Dream Lake shortly after that. 
Keep in mind that an entrance reservation is required for Rocky Mountain National Park during certain times of the busiest seasons. The hike begins at the parking lot for Bear Lake Trailhead, which fills up quickly over the summer. 
Be sure to arrive early to secure a spot or you can take the park's free shuttle bus to the trailhead. 
When you have had your fill on the hiking trails, Estes Park is an ideal next stop. Restaurants, coffee shops, candy stores, boutiques, and much more are found in Estes Park, so there is sure to be something for everyone.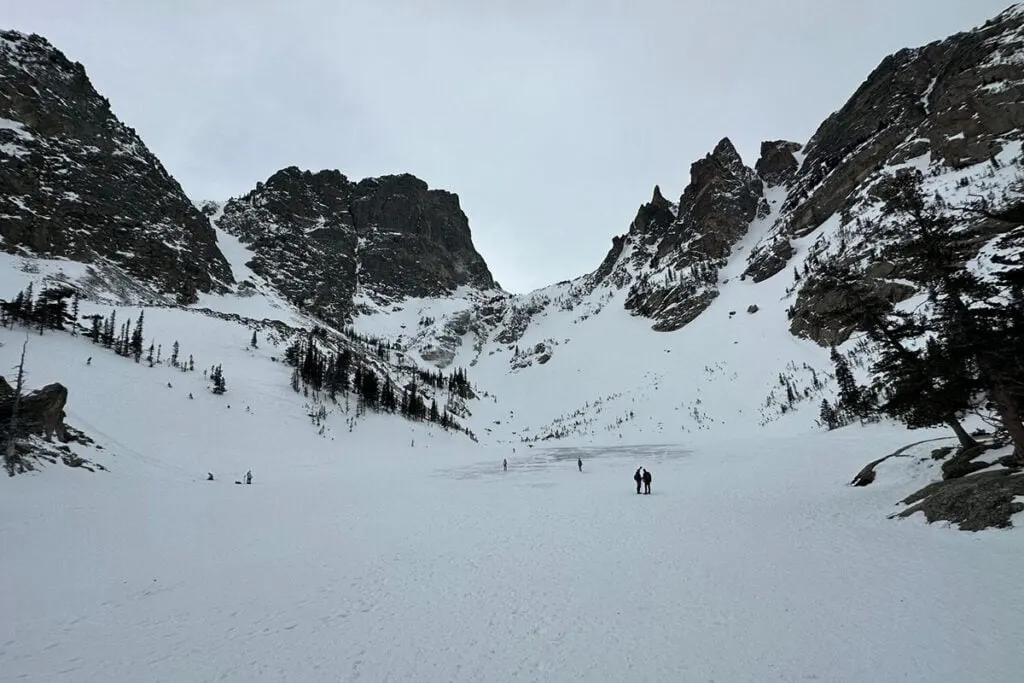 2 Red Rocks
Red Rocks is known for its iconic amphitheater, which attracts some of the most popular musicians in the world. But, it is also a well-known park where there are many miles of hiking trails to enjoy. 
Unique red rock formations line Red Rocks Trail as it winds through lush hills. In total, the hike is 4.5 miles round trip and it gains nearly 1000 feet of elevation. It is a great hike for any skill level since it is located in the foothills, so it is not at too high of an elevation. 
The second half of the route passes through Matthews/Winters Park, which is a local park run by Jefferson County Open Space. From here, there are plenty of options to explore even more trails. 
All in all, Red Rocks Trail is one of the best day hikes in the area. It is a fantastic way to experience an iconic destination in Colorado that is manageable for most people.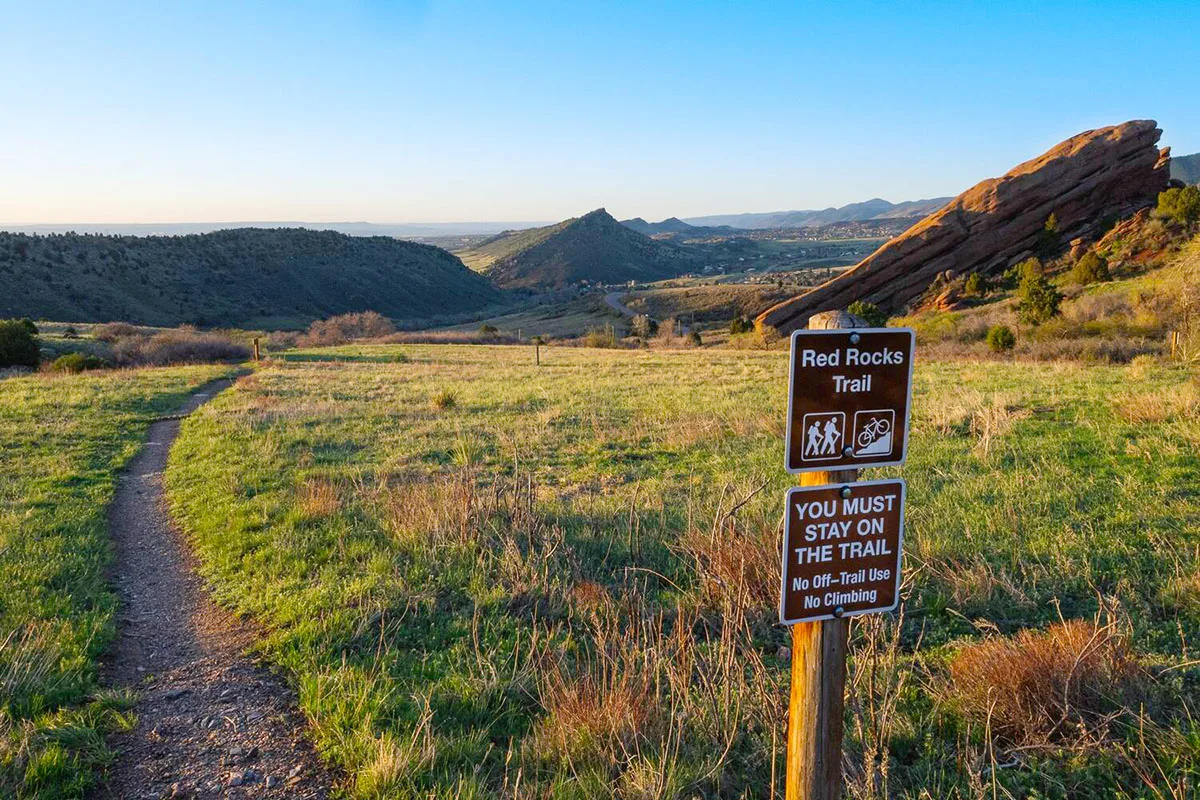 3 Mount Morrison
Hikers looking for panoramic views will enjoy the hike to the top of Mount Morrison. From the summit, you can see in all directions — the view of the Front Range to the west is particularly impressive. 
Starting from the parking lot, the total distance of the hike is 3.5 miles and it ascends consistently the entire way. Along with its proximity to Denver, this means the hike to Mount Morrison can be completed as a half-day excursion. 
After finishing the hike, it is worth making the short drive to Dinosaur Ridge, where you can see real dinosaur footprints preserved in stone. 
All in all, this hike is a great way to get a good workout in nature without taking up the whole day. 
4 Bear Creek Trail
Located near Morrison, Colorado, Bear Creek Trail is perfect for a long day hike with plenty to do nearby when you finish. 
The route begins in Lair o' the Bear Park, before continuing through several other Denver mountain parks. Along the way, you will pass through sections of dense forest and break out into open fields periodically. 
When you do, you will have clear views of Mount Evans. As one of Colorado's peaks that rises above 14,000 feet, it is a stark feature in the background. 
This hike follows an out-and-back trail. It is 12 miles long in total and gains 1750 feet of elevation. With this in mind, it is a strenuous hike that requires a decent level of fitness to do. 
Be sure to bring plenty of water and budget enough time to complete this hike.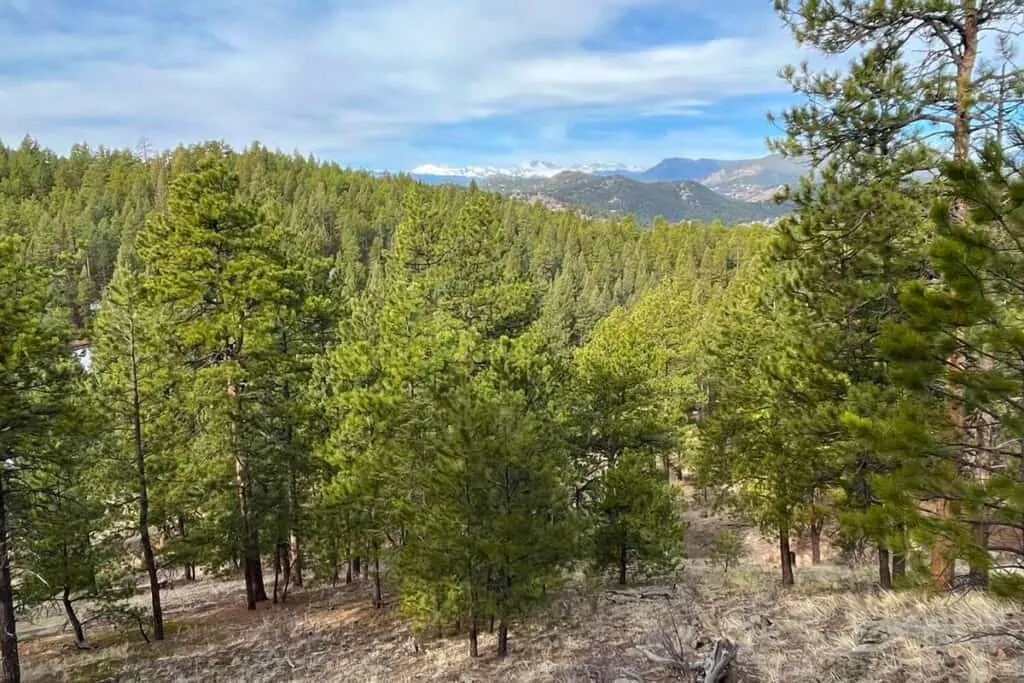 5 Mule Deer Trail 
The hike along Mule Deer Trail is another one longer than 10 miles, so it is a great way to cover a lot of ground. It passes through Golden Gate Canyon State Park, which is home to many beautiful vistas and hiking trails. 
You will find aspen groves at many points along the path, which are particularly impressive in the fall. The leaves change to vibrant orange and turn the landscape into a mosaic of striking colors, making fall the best time to visit. 
At the halfway point, the trail passes by Panorama Point, which offers one of the best views in the park. From here, many notable Colorado mountains are clearly visible including Grays Peak and Torreys Peak, which are along the Continental Divide.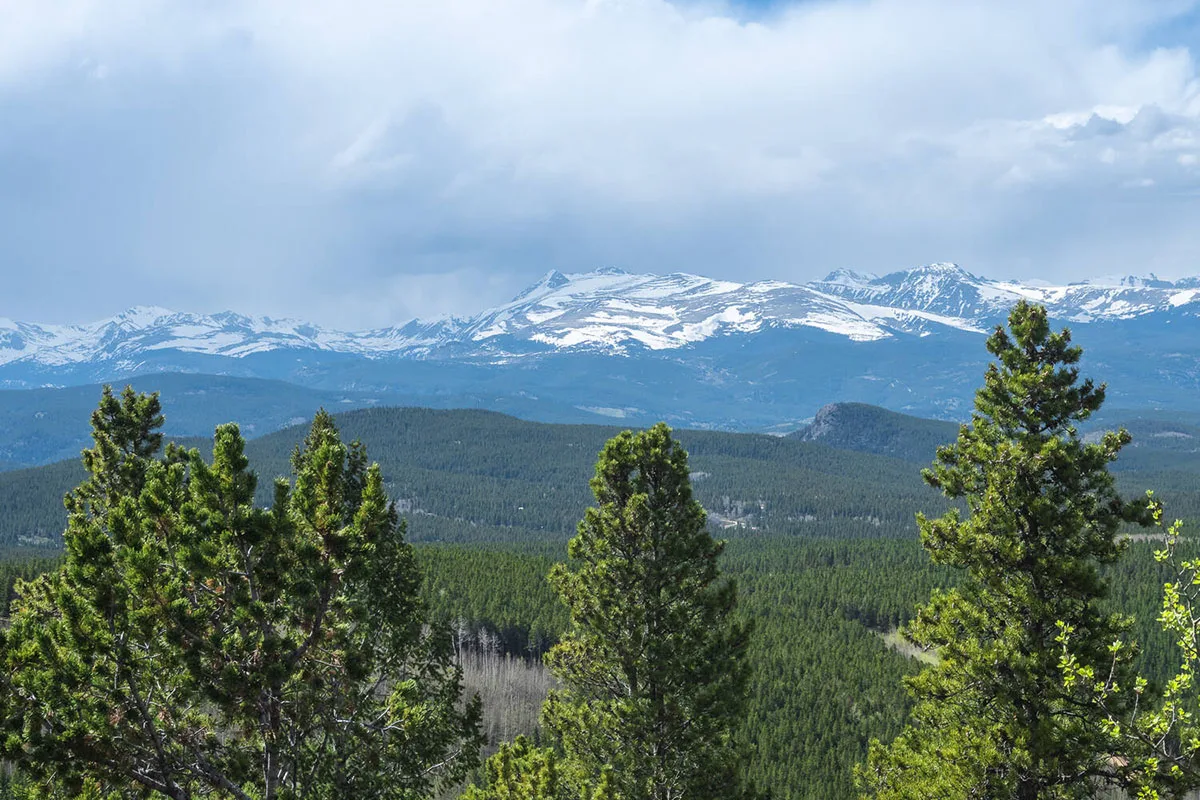 6 Manitou Incline 
The Manitou Incline is notorious for its challenging ascent of over 2000 feet in about a mile of hiking. It is a rewarding hike, and your effort will lead to impressive views at the top. 
Located near Colorado Springs, you will see Pikes Peak rising in the distance along the way. Given its reputation, hiking the Incline is a right of passage for many locals of Southern Colorado. For visitors who are up to the challenge, it is an activity that must be added to the to-do list.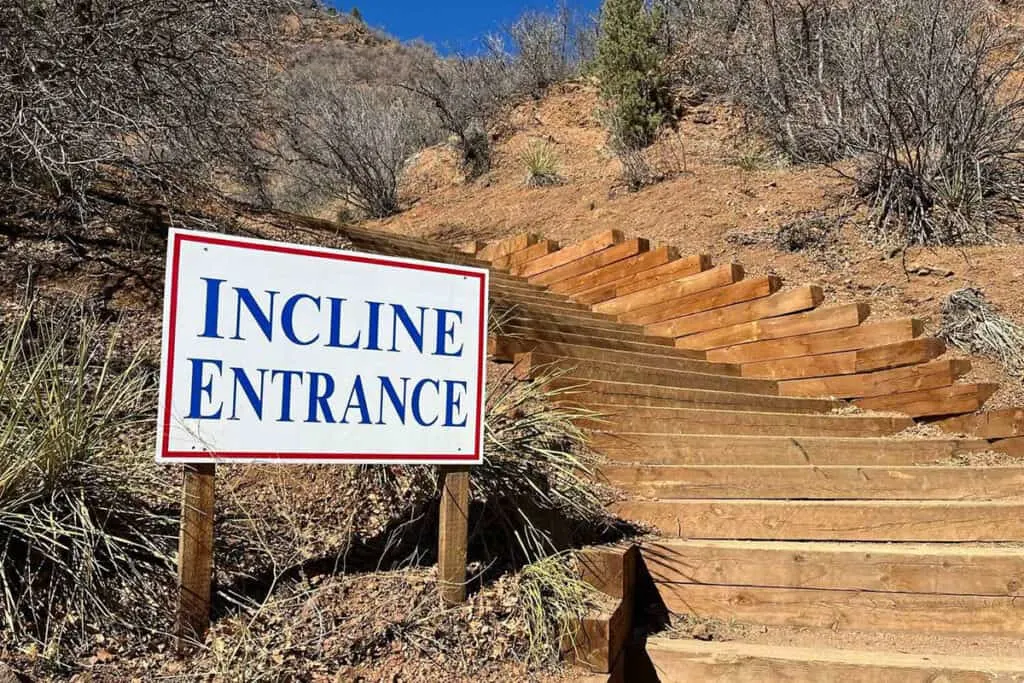 The route to the top traverses steps constructed from wooden beams. This makes covering the steep incline more manageable, so you can focus on putting one foot in front of the other. 
Note that reservations are required since it is such a popular route. 
While you are in the area, Garden of the Gods is another worthwhile destination to visit. Unique rock formations dot the landscape that will capture your attention as you ponder the millions of years of geological activity that formed them. This also features in my post about the best places for Spring Break in the US.
You can take this guided jeep tour, with a hotel pick-up, if you are visiting and want to get out in to the spectacular scenery for a few hours.
The Garden of the Gods reminds of the extraordinary hoodoos of Bryce Canyon, Utah – which is well worth adding if you plan on a Utah road trip. We did a 7-day Utah road trip from Salt Lake City and included Zion and Bryce. Breathtaking scenery!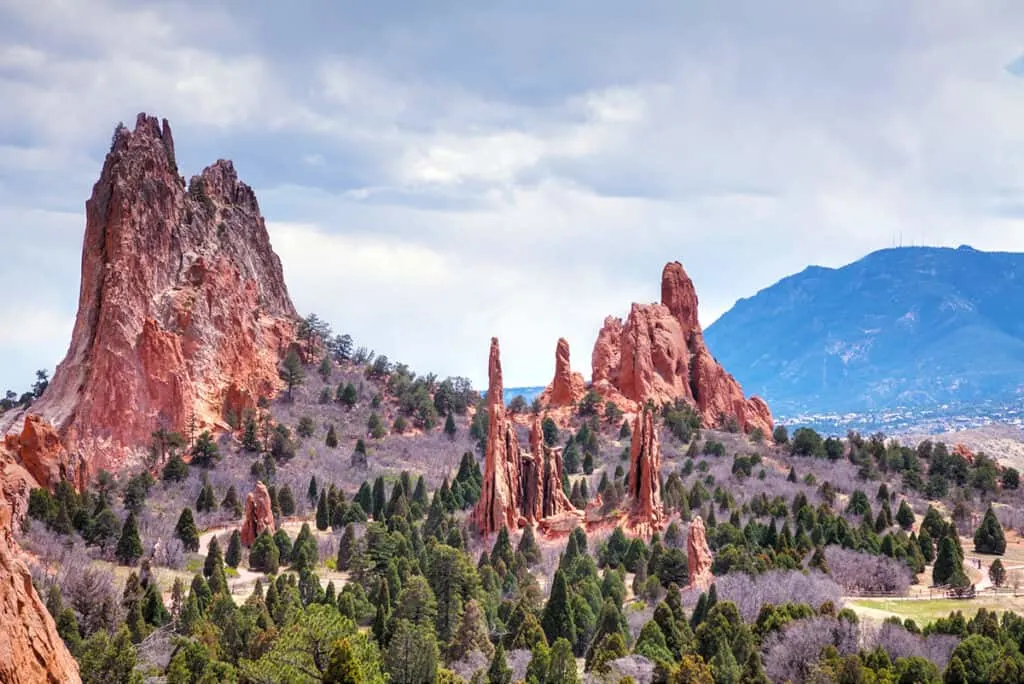 7 Mount Galbraith 
The Mount Galbraith hike is a great hike for visitors looking for a quick outing near Denver. You can drive to the trailhead in 30 minutes from the city, so it is one of the best day hikes from Denver. If you have plans for the rest of the day, you can do this hike and still be back by noon. 
As an added bonus, the trail is reserved for hikers only. As a result, you won't need to worry about sharing the hiking trail with mountain bikers or equestrians. 
The trail meanders along rolling hills, with snowcapped peaks visible in the distance. In the summer, wildflowers line the path and add some color to the scenery. 
Since the trail is located right next to Golden, Colorado, there are plenty of options for things to do after the hike. Downtown Golden has many choices for restaurants, breweries, and shops so be sure to stop by after your hike.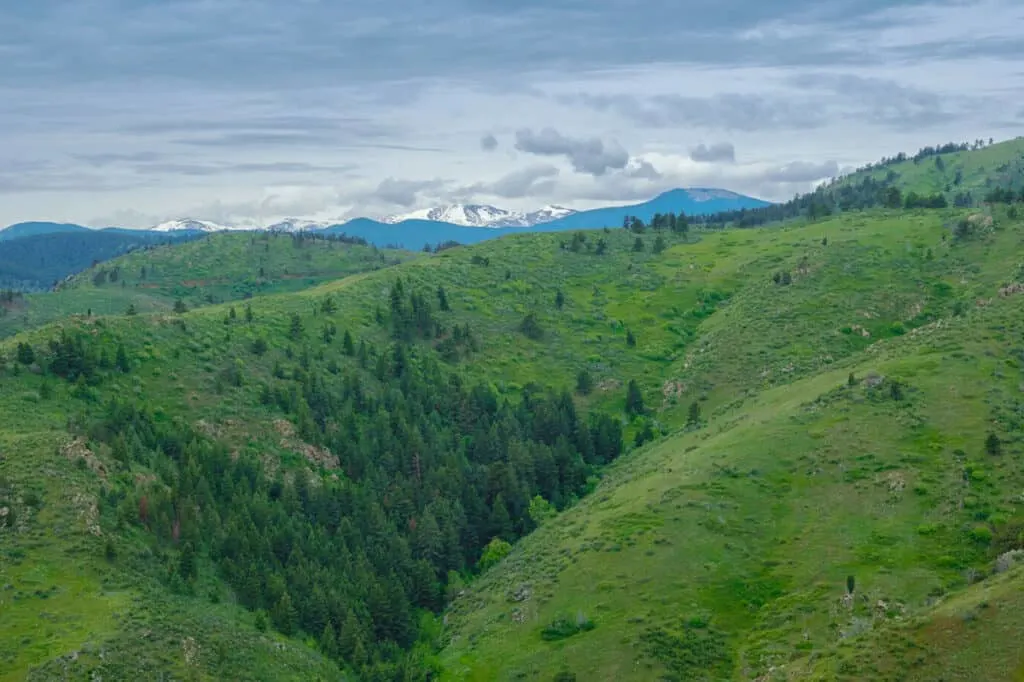 8 Blue Lakes Trail 
As one of the best Colorado hikes, Blue Lakes Trail takes you past three striking alpine lakes. Ascending 2500 feet, it is a challenging hike, but the views are well worth it. Due to its location, you may be fortunate to see wildlife such as bighorn sheep or mountain goats along the way. 
The trail is nestled in the San Juan Mountain Range, which is one of the most recognizable regions in North America. The town of Ouray is not far away, which is known as the "Switzerland of America." 
Given the high elevation of this hike, it is a good idea to bring a lot of water, sun protection, and plenty of food. Also, the last stretch of road leading to the trailhead is rough so a high-clearance vehicle is recommended.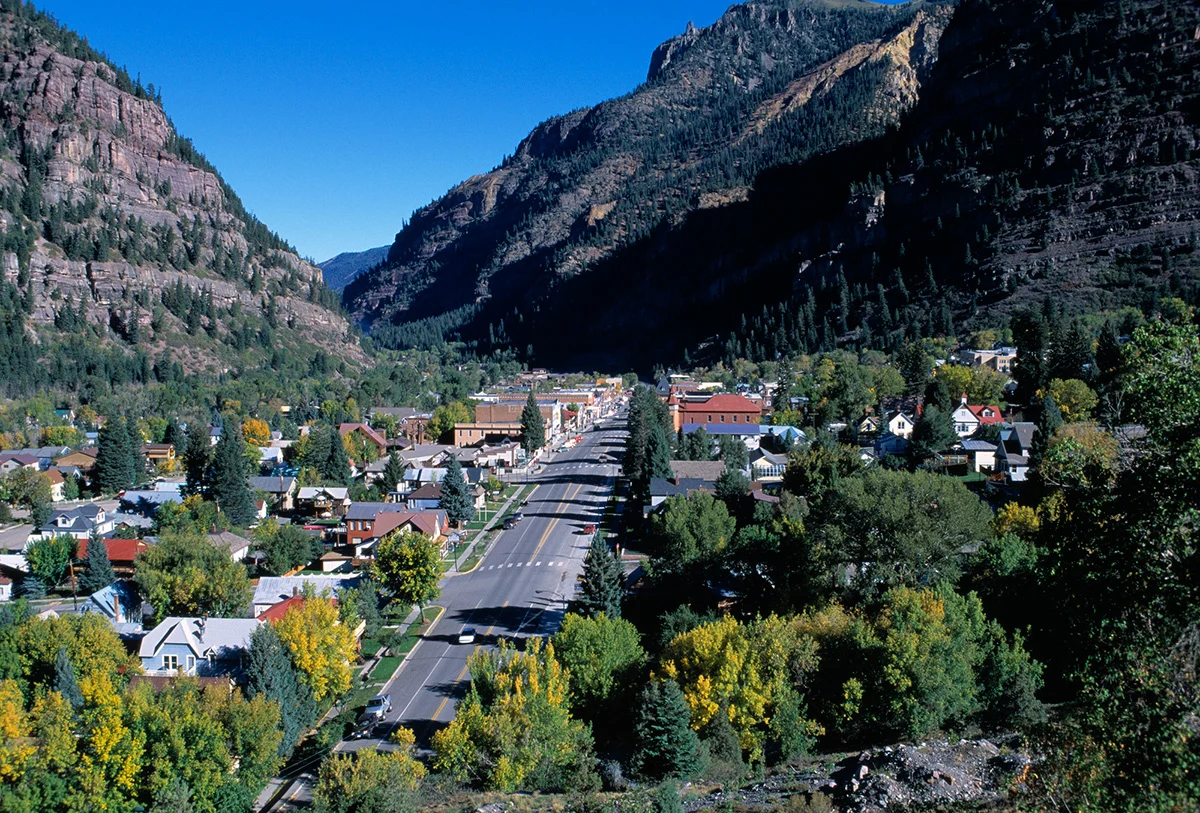 9 Elk Falls 
A waterfall is one of the best destinations for a hike, and there are several notable ones in Colorado. Elk Falls stands out as one of the best to hikes to. 
The falls are tucked away in Staunton State Park, which is a Colorado state park that spans nearly 4000 acres and has many miles of hiking trails. 
You have several options for experiencing the falls. To start, you can hike to the base where you can fully experience the power of the crashing water on the rocks below. Or, hike a little further to reach Elk Falls Overlook, where you can peer down on the cascading water from above.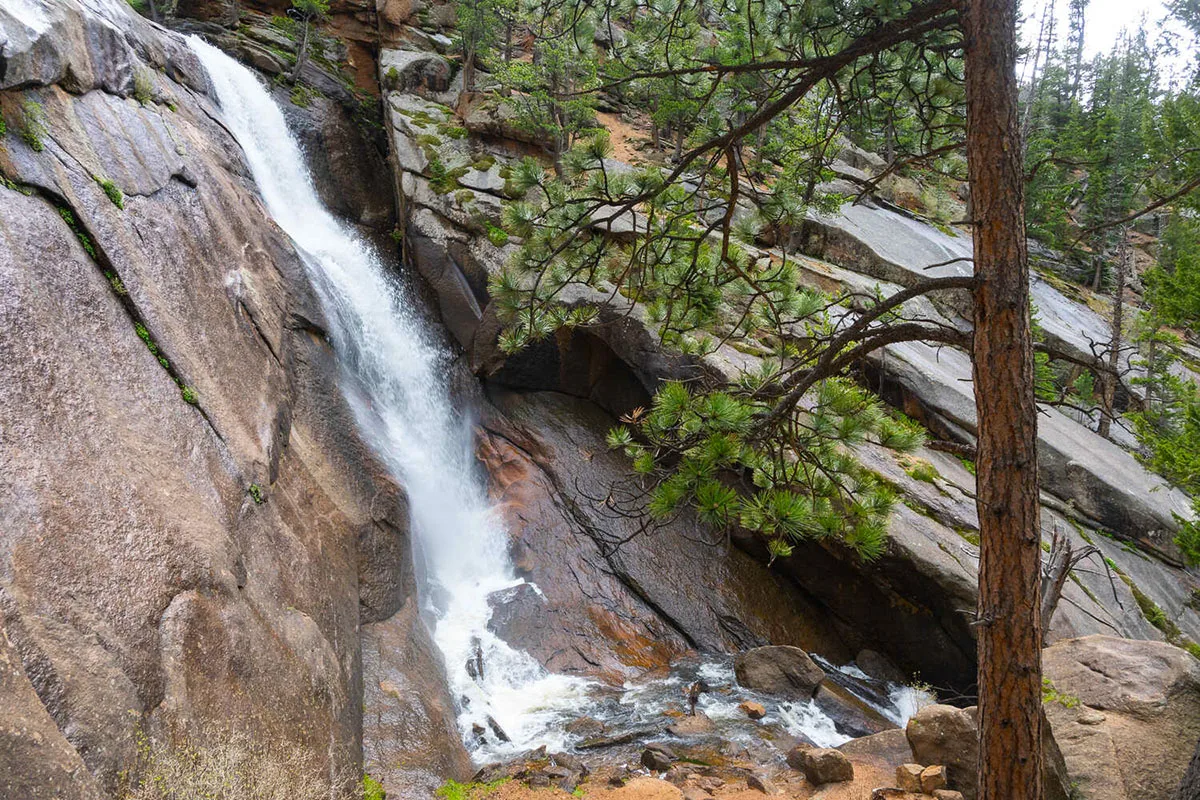 10 The Flatirons
The flatirons are unique rock formations that stick out from the landscape in Boulder, Colorado. They are not only fascinating to view from afar, but you can also hike to the top of them. 
Although the hike is a short distance, it involves a significant amount of elevation gain. There are also some sections of scrambling, so it makes for an exciting hike. 
From the summit, you will have a vantage point of the surrounding scenery and Boulder below. The hike is a classic in the area and draws both locals and visitors. 
The trail is located in Chautauqua, which is a park that has many miles of trails. There are more than enough options to extend your hike if you are feeling adventurous. In particular, Royal Arch Trail is another popular trail to explore.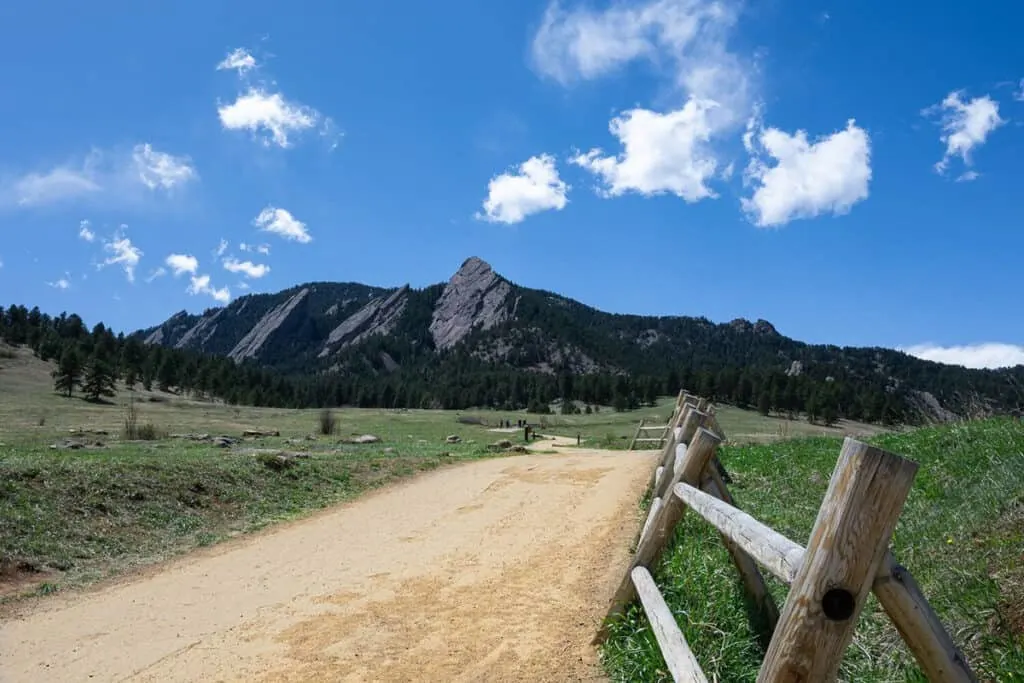 11 Crater Lake 
The Maroon Bells-Snowmass Wilderness is one of the most picturesque areas in Colorado, and it features some of the best Colorado hikes. The hike to Crater Lake is a reasonable hike for most people, so it is a fantastic way to explore the region. 
The out-and-back trail totals 3.5 miles and a little less than 700 feet of elevation gain. It begins from the Maroon Lake parking lot, where spots are in high demand. 
To access the parking area, an advanced reservation is required. Otherwise, you can book a spot on the shuttle bus that will take you to the start of the trail to Crater Lake. 
Fall is the best time to do this hike since it is when the leaves on the aspen trees change to a myriad of striking colors. 
After your hike, consider making the short drive north to Glenwood Springs, where you can relax in the world's largest hot springs pool.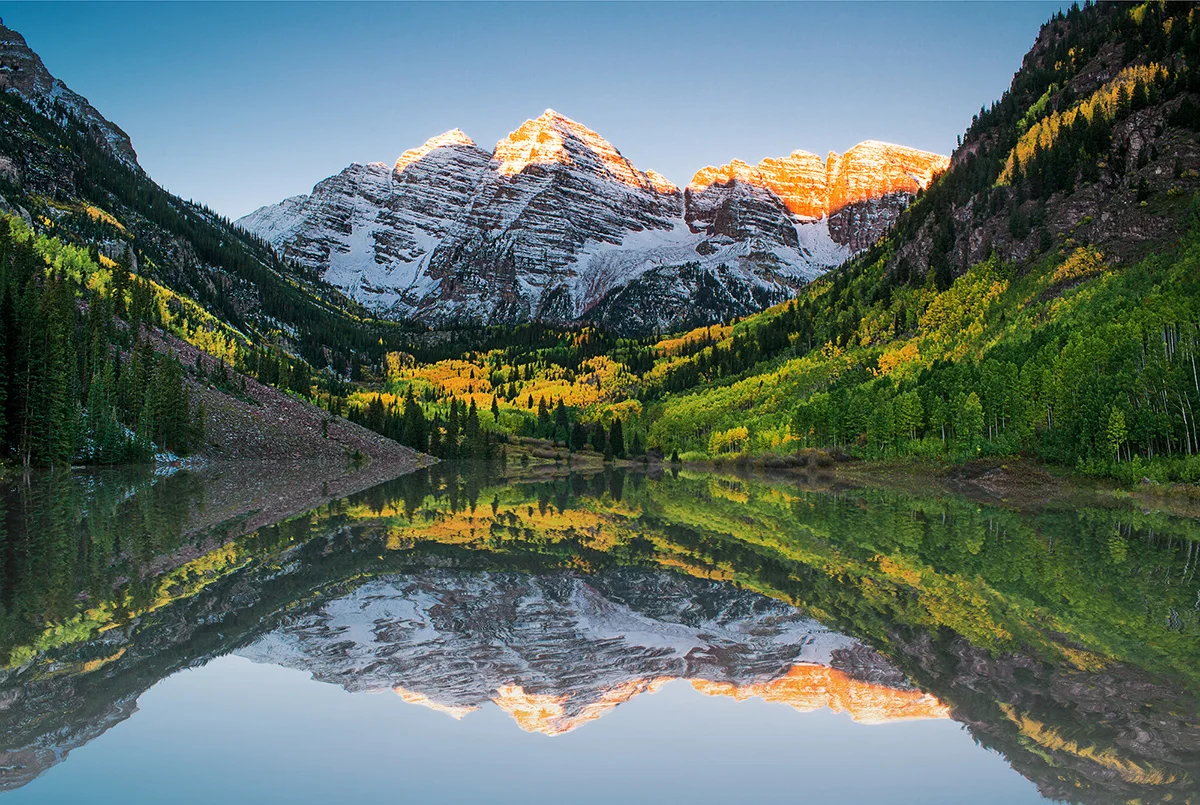 12 Horsetooth Rock 
The hike to Horsetooth Rock is one of the most popular in Northern Colorado. Horsetooth Rock is a stalwart presence on the horizon from the city of Fort Collins. 
Named for the protrusion that looks like a horse's tooth, the large rock formation catches your eye immediately. For a unique perspective on the formation and epic views, hike to the top via Horsetooth Rock Loop Trail. 
After the hike, cool off by swimming in the nearby Horsetooth Reservoir. Or, take a kayak or paddleboard out on the water for a nice way to relax and unwind.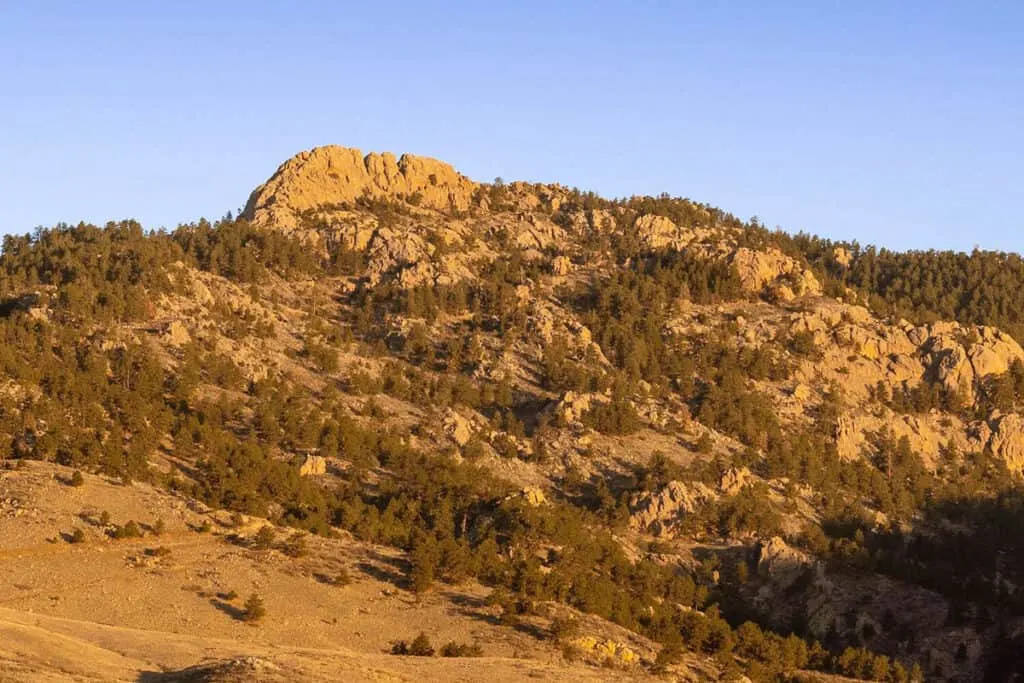 13 Evergreen Mountain 
The hike up Evergreen Mountain is delightful, and there is no shortage of things to do when you finish. Clocking in at about five miles long round trip, the route is not overly strenuous so it makes for an enjoyable excursion in the mountains. It can be completed by most people, no matter your skill level. 
Evergreen Mountain is located next to Arapaho National Forest in Alderfer/Three Sisters Park, where 16 miles of hiking trails offer plenty of opportunities to extend your hike. Once you are tuckered out, the nearby town of Evergreen is the perfect place to relax.
Restaurants abound in Evergreen, from fancy establishments to casual eateries. Beau Jo's is a local classic, where pizza with delicious crust is served. Or, quench your thirst at one of the breweries on a patio during a summer afternoon.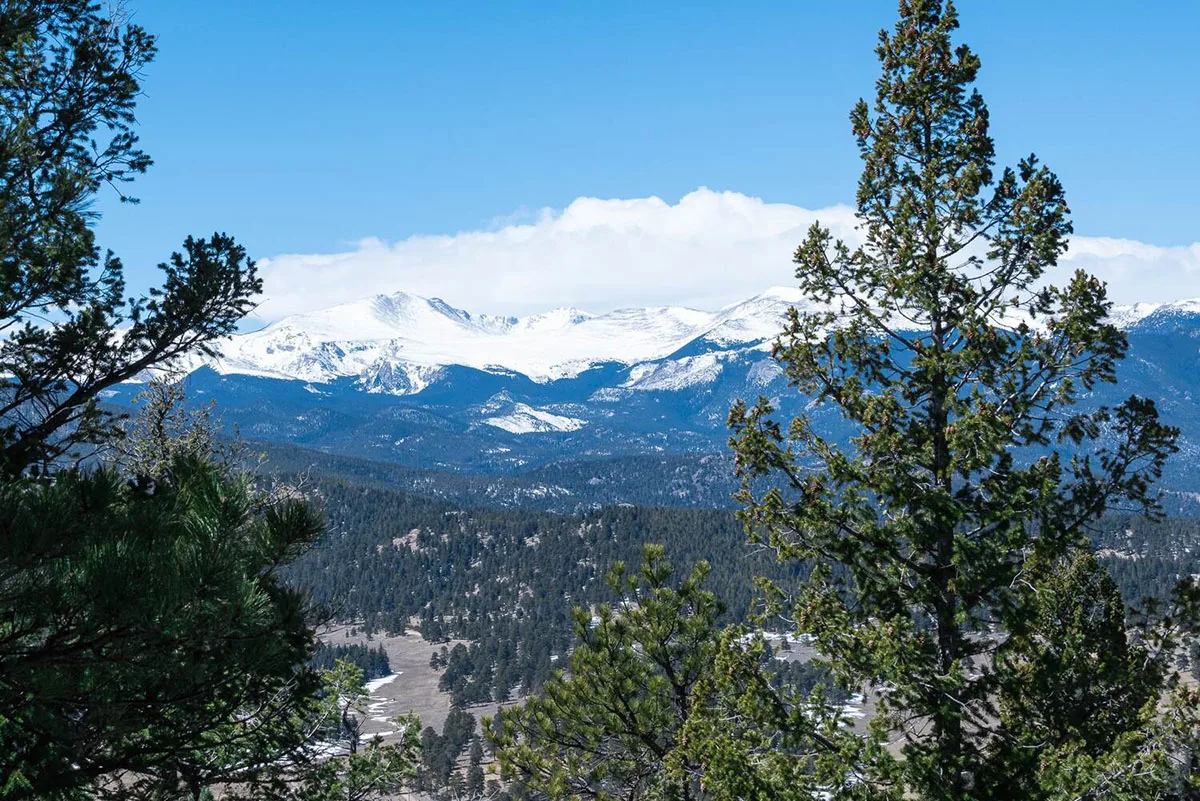 Whether you are a long-time resident of Colorado or just passing through, hiking is one of the best ways to enjoy the mountains. From the foothills of the Front Range to the Grand Mesa near Grand Junction, there are endless areas to go hiking. 
Be sure to research any hike you do thoroughly before going, pick a hike that is appropriate for your fitness level, and bring plenty of water and snacks with you. 
This list of the best hikes in Colorado is a great way to start adventuring on the trails. Once you get hooked on hiking, there is no shortage of new places to explore. Happy trails!
Where to go next!
You might like my post on a Southwestern Utah road trip including Zion, Bryce Canyon and lots more intriguing places to stop and stare!
Or this post on a Southeastern Utah road trip including Arches, Canyonlands and Capitol Reef.
If Utah is on your list, I loved our hike in the amazing Narrows in Zion National Park. And you don't need to be too fit to do it, just pack some water and snacks and head off as far as you like up the river for spectacular scenery.